<![if !vml]>

<![endif]> Memories & Images

This page is where I intend to include readers memories & photos. These memories need not be restricted to the period of this site , as I am aware that many visitors to this site will have memories earlier or later than mine. Feel free to contact me. I will try to include as much as I can, but may be forced to edit if space does not allow. To start this section I am including a couple of photos taken during the Whit Walks sometime in the mid 1950's.

Update:- August 2010

The Day That Sean Connery "Nearly" Came To Levenshulme

The above title may be "stretching" it a bit, but Sean Connery did come within a stones throw of Levenshulme in 1960!! If you remember the "Showbiz Eleven" football team, you may be aware that they played a match at Harris Stadium in the summer of 1960. The exact date I cannot remember, but I bet someone out there has a programme and possibly photographs! Anyway, being a little star struck, I wanted to see this match. So I persuaded my friends Patrick and James Dempsey to come with me. We found Harris Stadium, off Moseley Road in Rusholme, and joined the huge crowds to see which famous film and TV stars were there. If I remember rightly the match, being played for charity, was the Showbiz Eleven versus Local Sports Celebrities. The TV stars included:- Des O'Connor, Dave King, Mike and Bernie Winters, Tony Dali and Sean Connery!! I knew of Sean Connery from his recent appearance in the Walt Disney film "Darby O'Gill and the Little People". This was way before James Bond!! I really do not remember what the score was or who the Local Sports Celebrities were. Though I remember Bobby Charlton was a linesman!! and Denis Violet may have been involved. I have dined out on this story for years!! If you can add more to this story I would love to hear from you.

Update, April 2011

Just recently I was contacted by Chas McDevitt, who played with Sean Connery on the Showbiz X1 team. He sent me this photo of some of the team including himself and Sean visiting an injured team mate. Incidentely, Chad McDevitt was one of the innovators of the Skiffle craze in the 1950s. He recorded records with his group and Nancy Whiskey. Remember "Freight Train"? He states that he played venues in the Levenshulme area!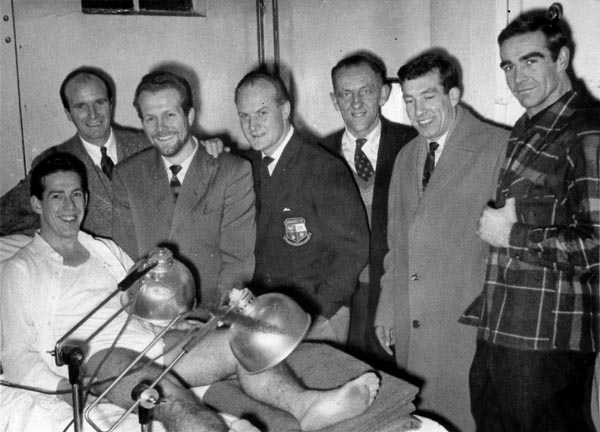 From the left; Glen Mason, Wally Barnes, myself, Frank a trainer, QPR
player, Sean Connery. ( photo via Chas McDevitt)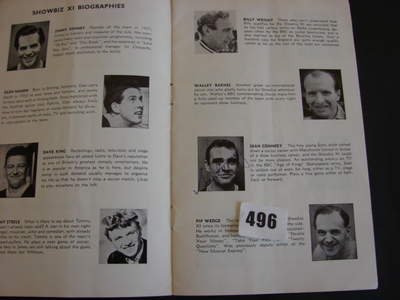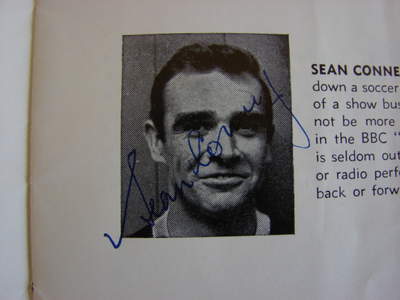 Photos from a Showbiz X1 programme, including Sean Connery's Autograph. (via Ebay)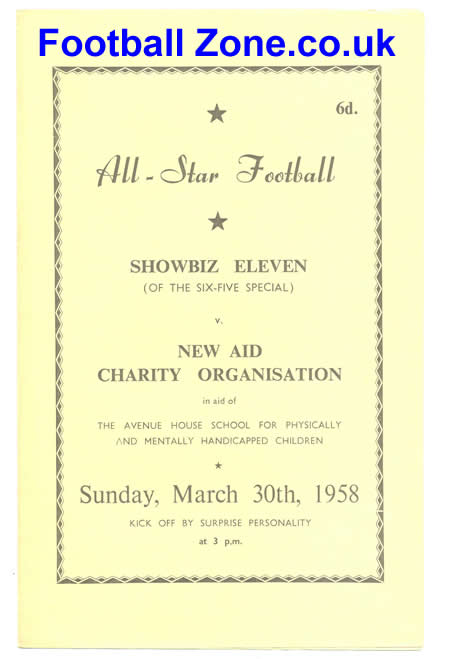 A contemporary Showbiz Eleven Programme cover. (via Football Zone)

An Older Sean Connery, still kicking a ball!!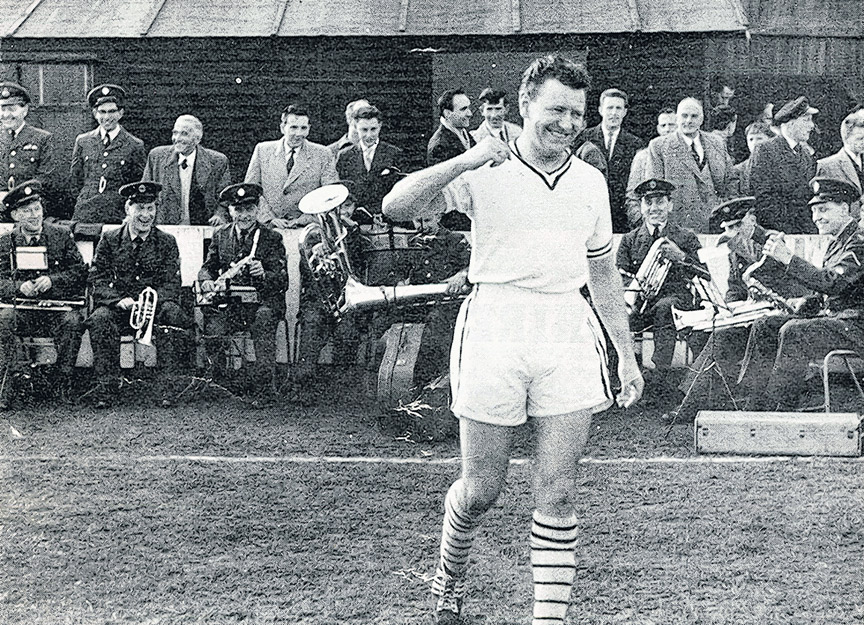 Dave King playing for the Showbiz Eleven. Where? (via Ebay)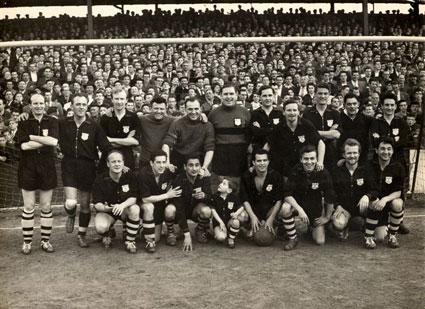 Showbiz Eleven 1960s? Mike and Bernie Winters, Dave King, Pete Murray, Des O'Connor Lonnie Donegan. Who else is in this photo? (via Ebay)
Just came across your page.
I can fill in the names of the Showbiz X1 for you.
Top left: Wally Barnes (capt. Arsenal & Wales), Stan Sennett, Billy Cotton
Jnr. (head of BBC, died last year), Dave King, Pip Wedge (TV producer), Ken
Wolstenholme (Broadcaster), John Burgess (A&R man at EMI records), Ziggy
Jackson (A&R man at Melodisc Records), Pete Murray, (Tom trainer?), Lonnie
Donegan,
Front row: Franklyn Boyd (Singer and song publisher, Cliff Richard music
etc.), Glen Mason, Bernie Winters, (Jimmy Henney's son, now a heart
surgeon), Jimmy Henney (song publisher, compere on Ready Syeady Go), Des
O'Connor, Chas McDevitt, Mike Winters. (missing from the team on that
occasion were; Sean Connery, Ronnie Carroll, Tommy Steele & Billy Wright
(capt. of Wolves & England). The game was at West Ham in front of 23,000 and
was 'kicked off'' by Alma Cogan.
Hope this has been of interest to you, Chas McDevitt
This letter from Chas McDevitt details the above players.
I have been very neglectful of this page over the years since I started this website. Many people have sent me memories of their lives in Levenshulme, and I have just never gotten around to putting them onto this page. I am about to rectify that situation!!
Whit Walks Memories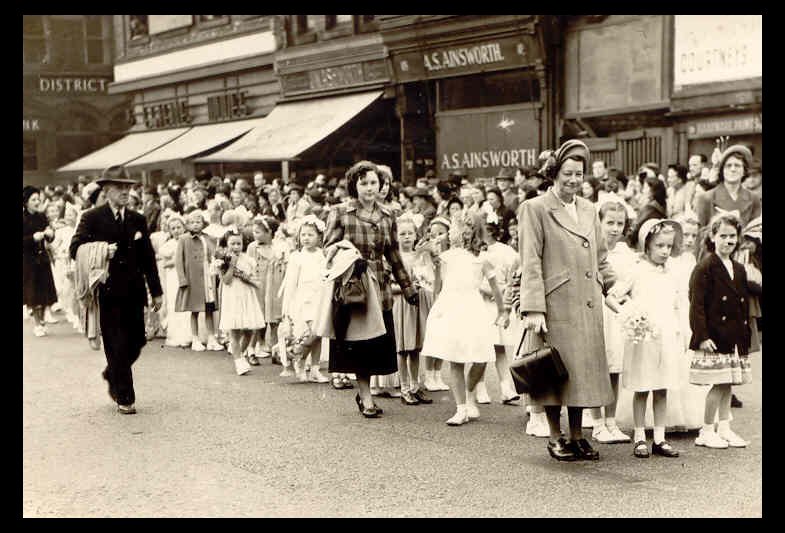 This photo shows my sister Rosemary walking with St. Marks Church in the early 1950's. She is the little girl with the bonnet at the front. Look at the fashions, and the shop fronts on the corner of Cromwell Grove & Stockport Road. Estelle Modes, Ainsworths Jewelers Etc.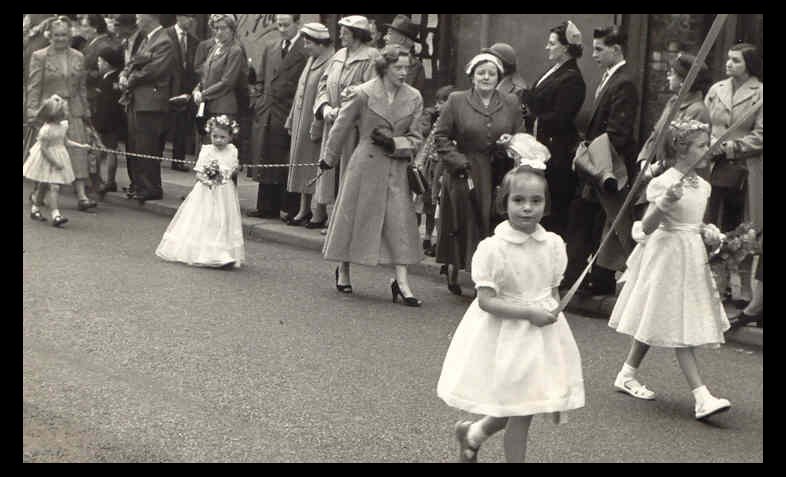 This photo shows my wife Mavis walking with the Zion Congregational Church. I cannot tell the location, but the fashions are similar to the previous photo. It must have been warm judging by the girls dresses, but the ladies are all wearing long winter coats! People obviously dressed for the occasion. No Tee shirts or Baseball caps in the 1950's!!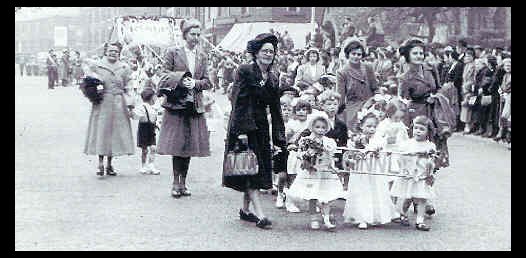 This photo shows children from Alma Park Methodist Church in the early 1950's, passing St. Peters Church. (Photo via Andrew Barber)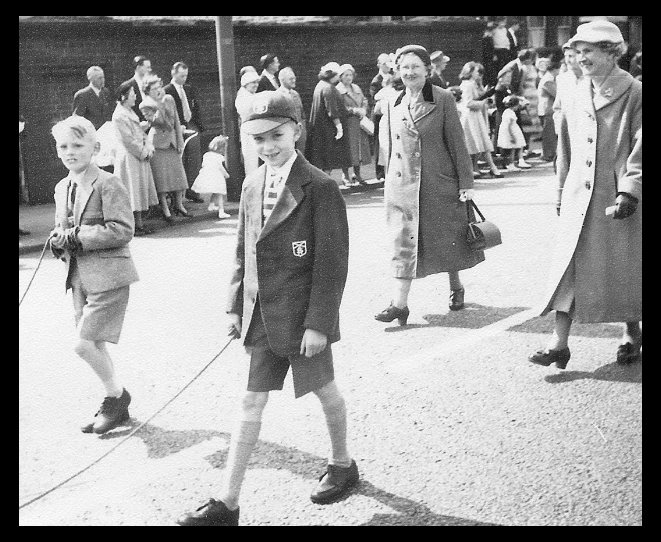 Alma Park Methodist, Whit Walks 1950s. passing along Stockport Road near Station Road. The smart boy in blazer is John Barber, the boy to the side is Peter Shuttleworth. ( Via Andrew Barber )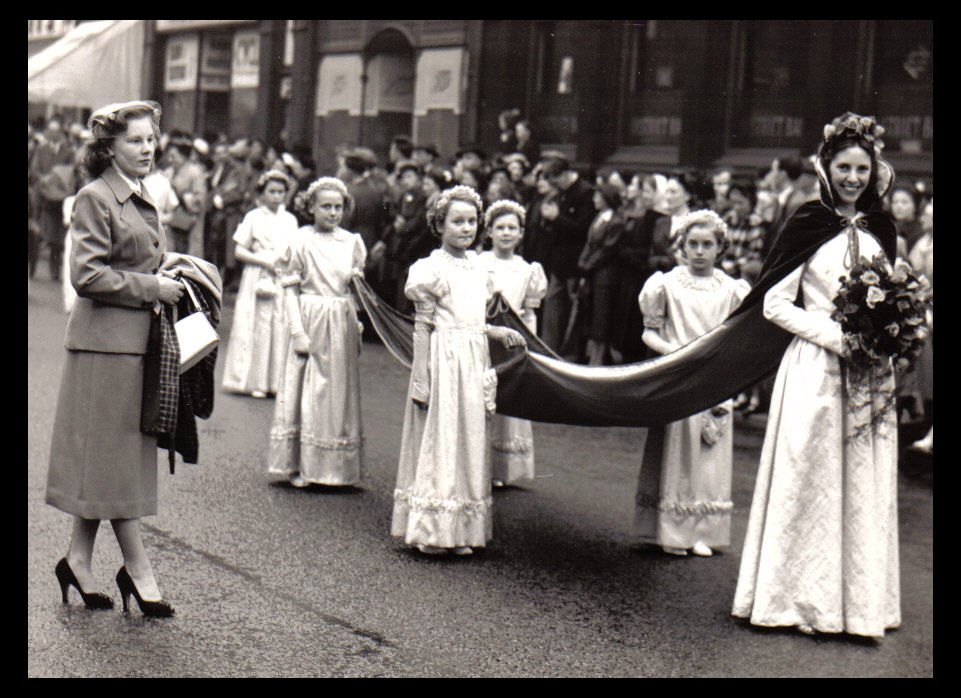 This photograph shows girls from Alma Park Methodist Church walking in the Whit Walks 1954. The "Rose Queen" is Cynthia Collinge, and the train-bearers are L-R Jean Mackay, Jean Affleck, Julia Wallace & Ann Percy. The lady in front is Sunday School teacher Miss Wells. The photo was taken between Carrill Grove East & Cromwell Grove on Stockport Road. Boots the Chemist & Platts Furniture Store are visible on the original print. Was there a Dawes TV shop on this row? I also vaguely remember a showcase full of Dinky cars on this block. Was there once a Toy Shop here? ( Photo. via Julia Wallace).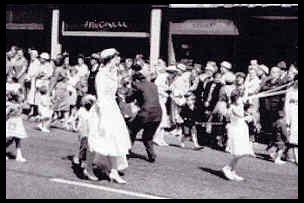 A Whit Walks photograph taken by Ken Musgrave in the 1950's. The location is the block of shops between Carrill Grove East & Cromwell Grove, outside Dawes electrical store. ( Photo Ken Musgrave)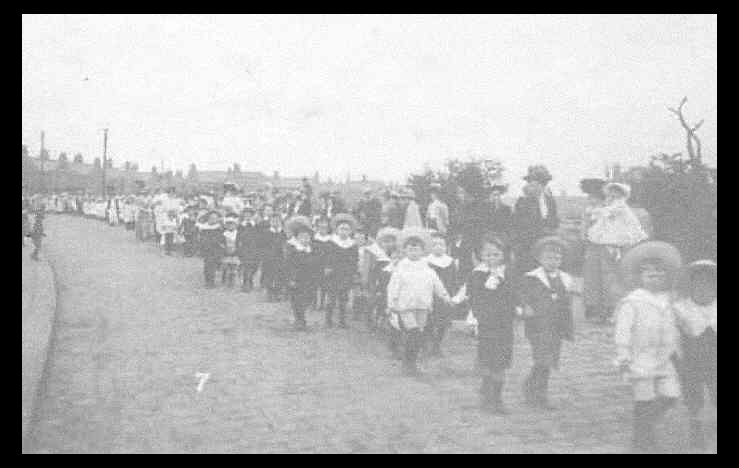 This photograph is supposed to show Whit Walks in Levenshulme in the early part of the 20th century. Can you recognise the location?
Alma Park Methodist Church, Anniversary Walk 1960s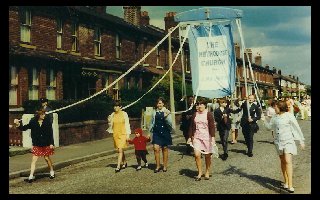 A couple of photos taken before 1968, when Alma Park Methodist Church closed. It shows an Anniversary Walk, not the Whit Walks! The photos were taken in Crayfield Road. Does anyone know the origin of the name Alma Park? was it named to commemorate The Battle of the Alma, a famous Crimean War victory, or is there some simpler explanation? (Photos via Andrew Barber.)
More Whit Walks Photos
Stockport Road near Barlow Road 1930s?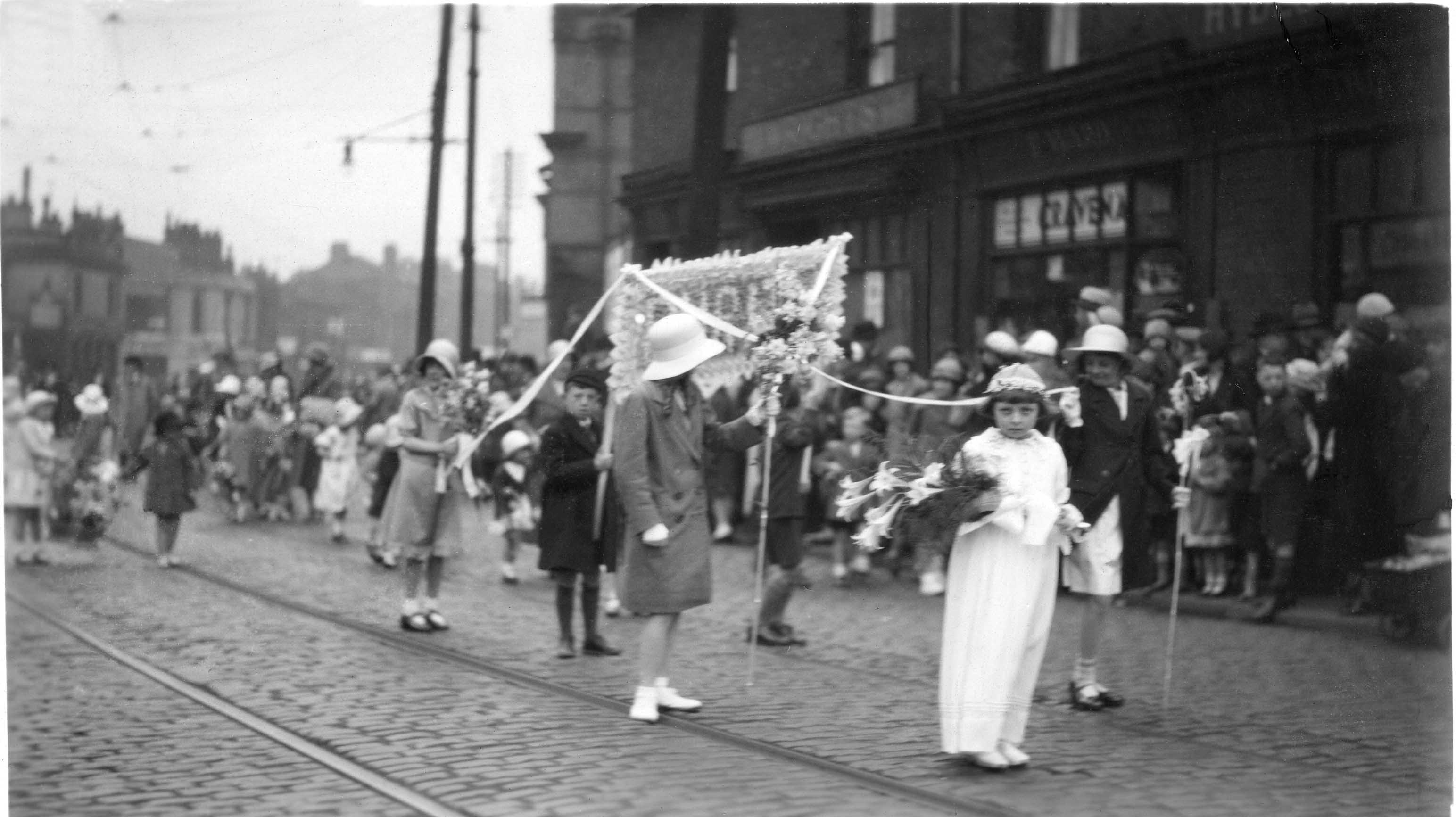 Stockport Road near to the Pack Horse 1930s?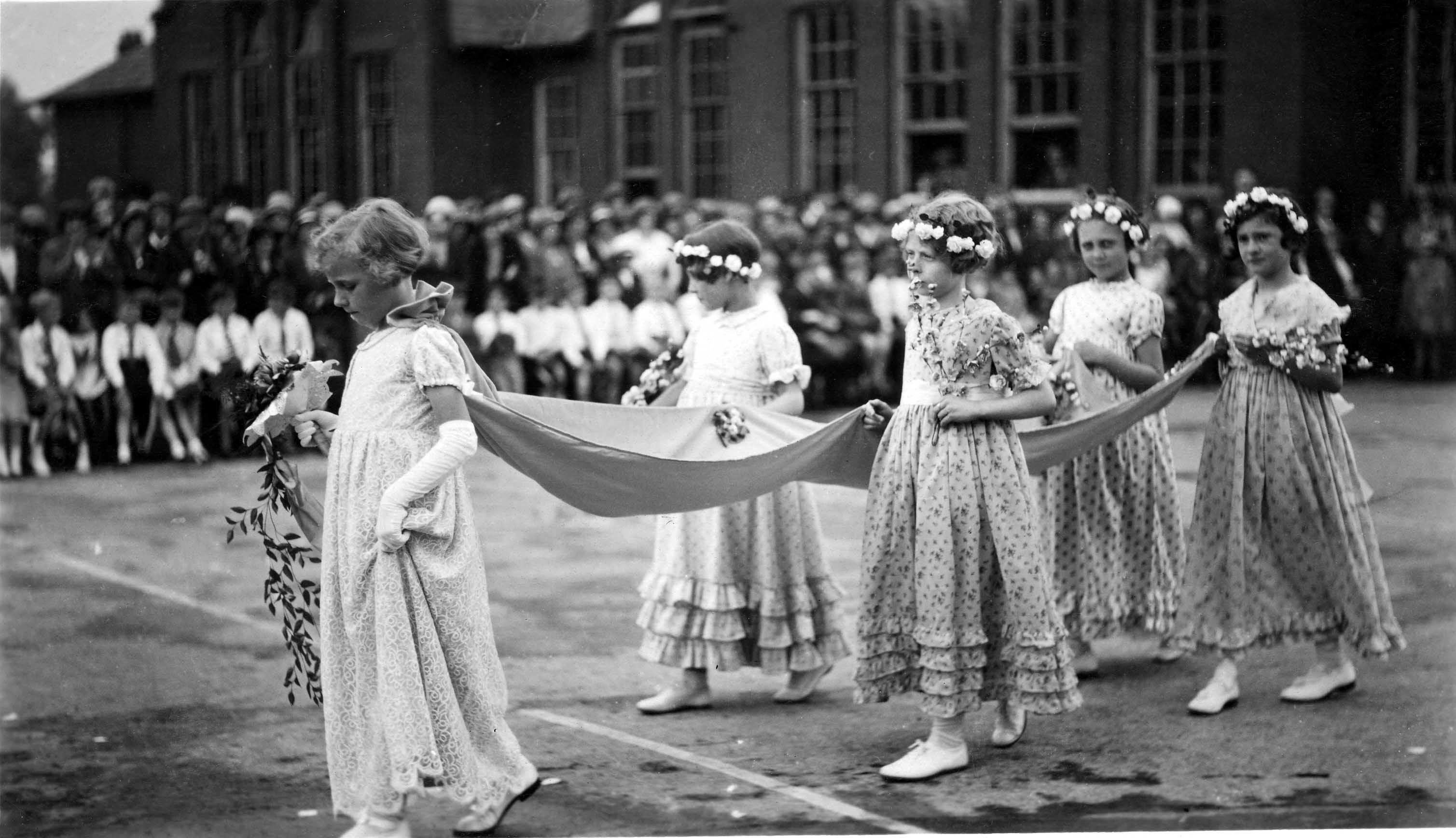 May Queen, Alma Park School, 1930s?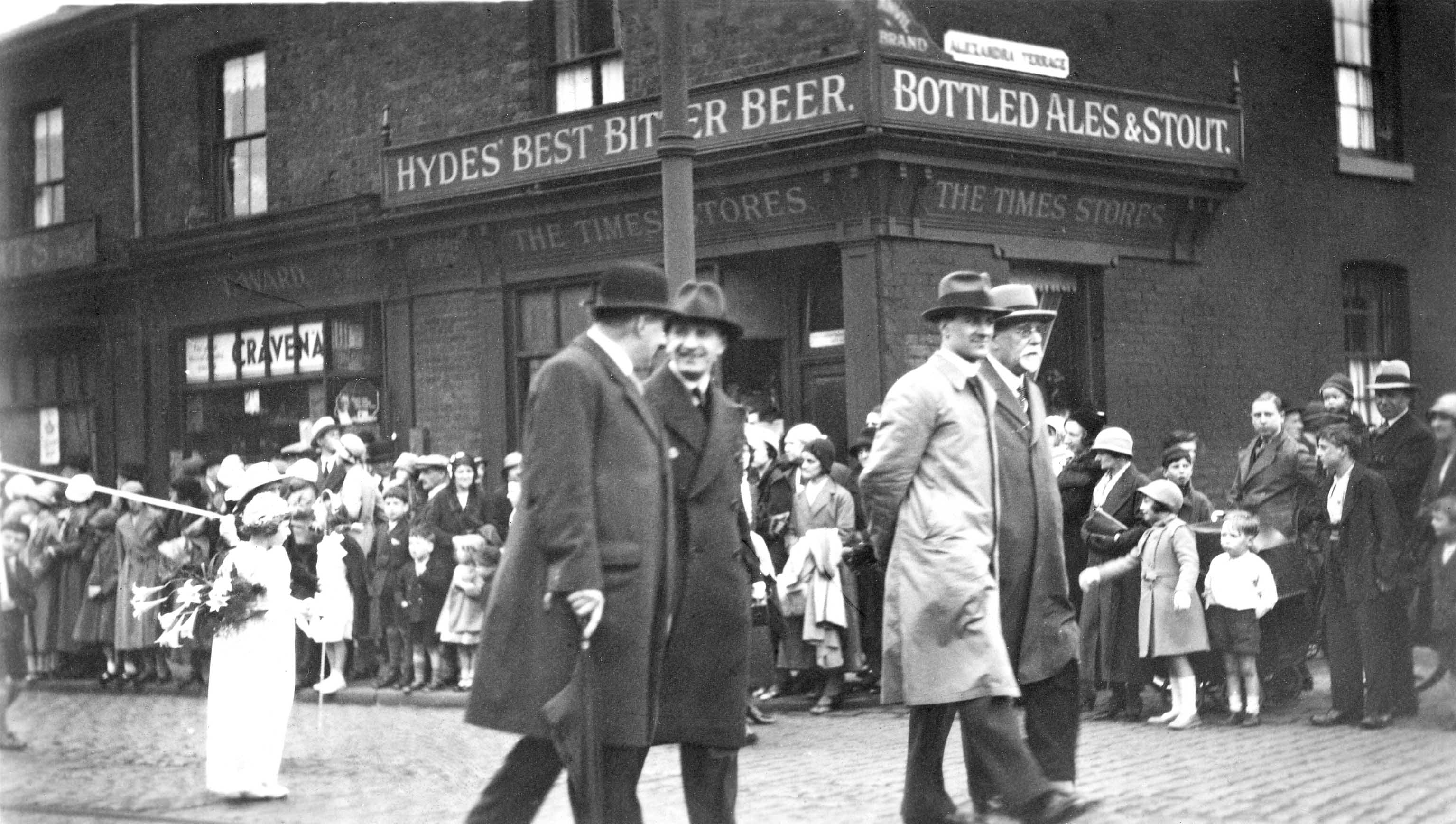 Stockport Road near Alexandra Terrace 1930s?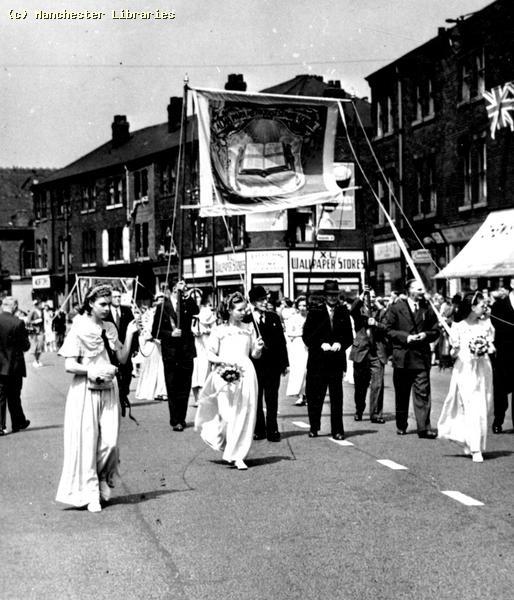 Whit Walks. Alma Park Methodist Church 1950. ( Manchester Libraries)
St Andrews Church Whit Walks. 1950s ( All photos via Brian Carter)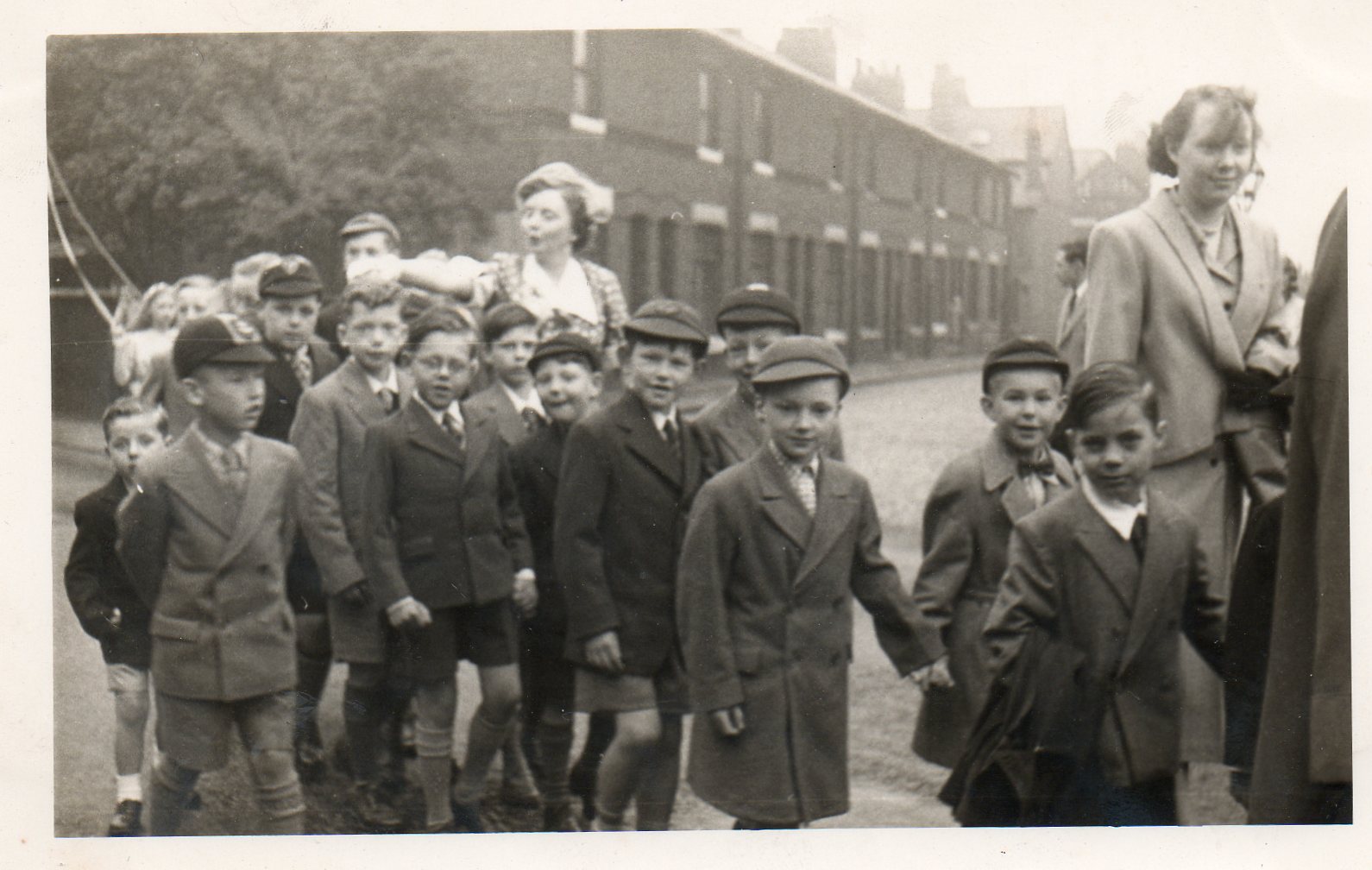 I am not sure of the location or date, Brian Carter on far left of photo looking very young!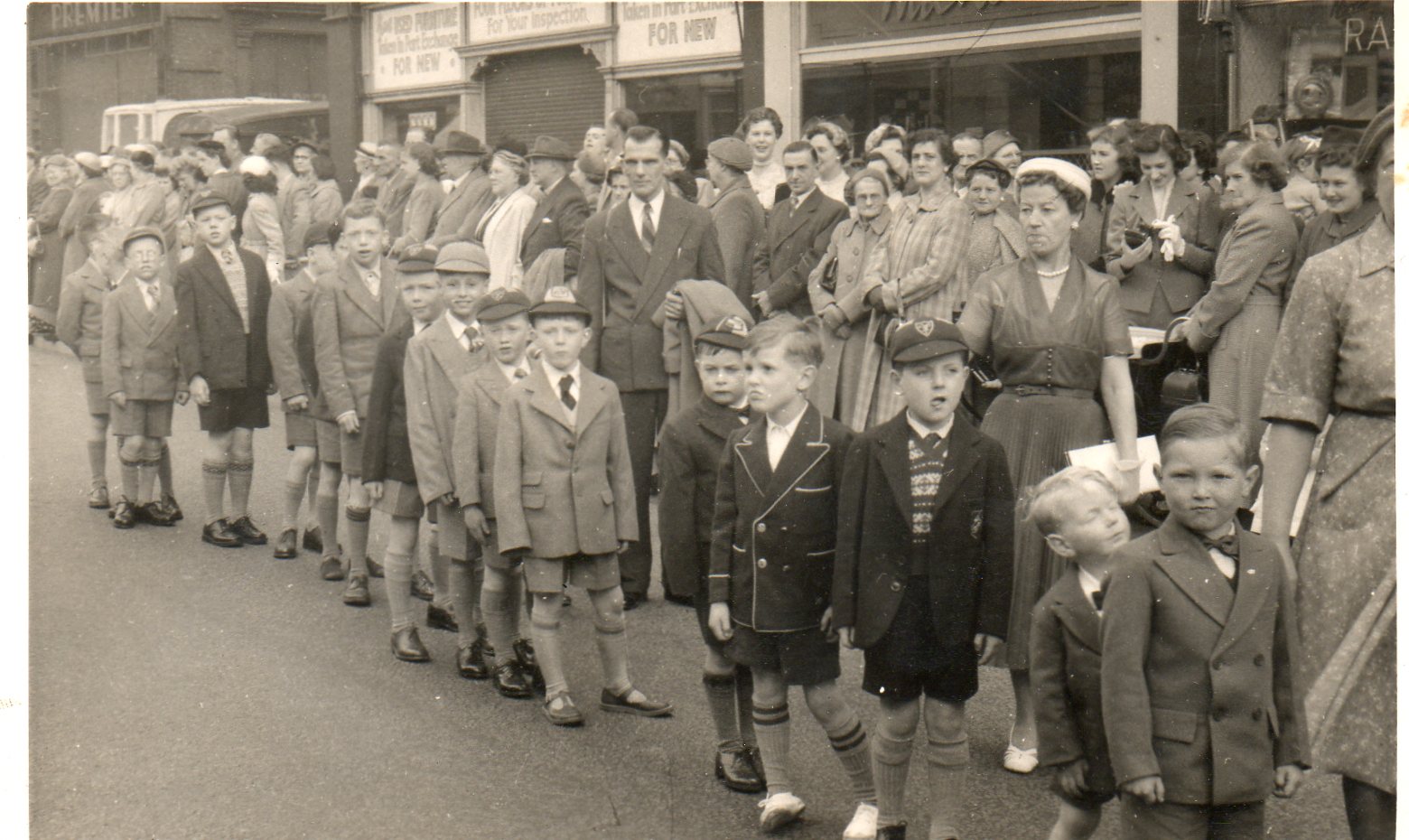 This photo taken between Carrill Grove East and Cromwell Grove, heading south. Brian is the third boy wearing cap with his tongue sticking out!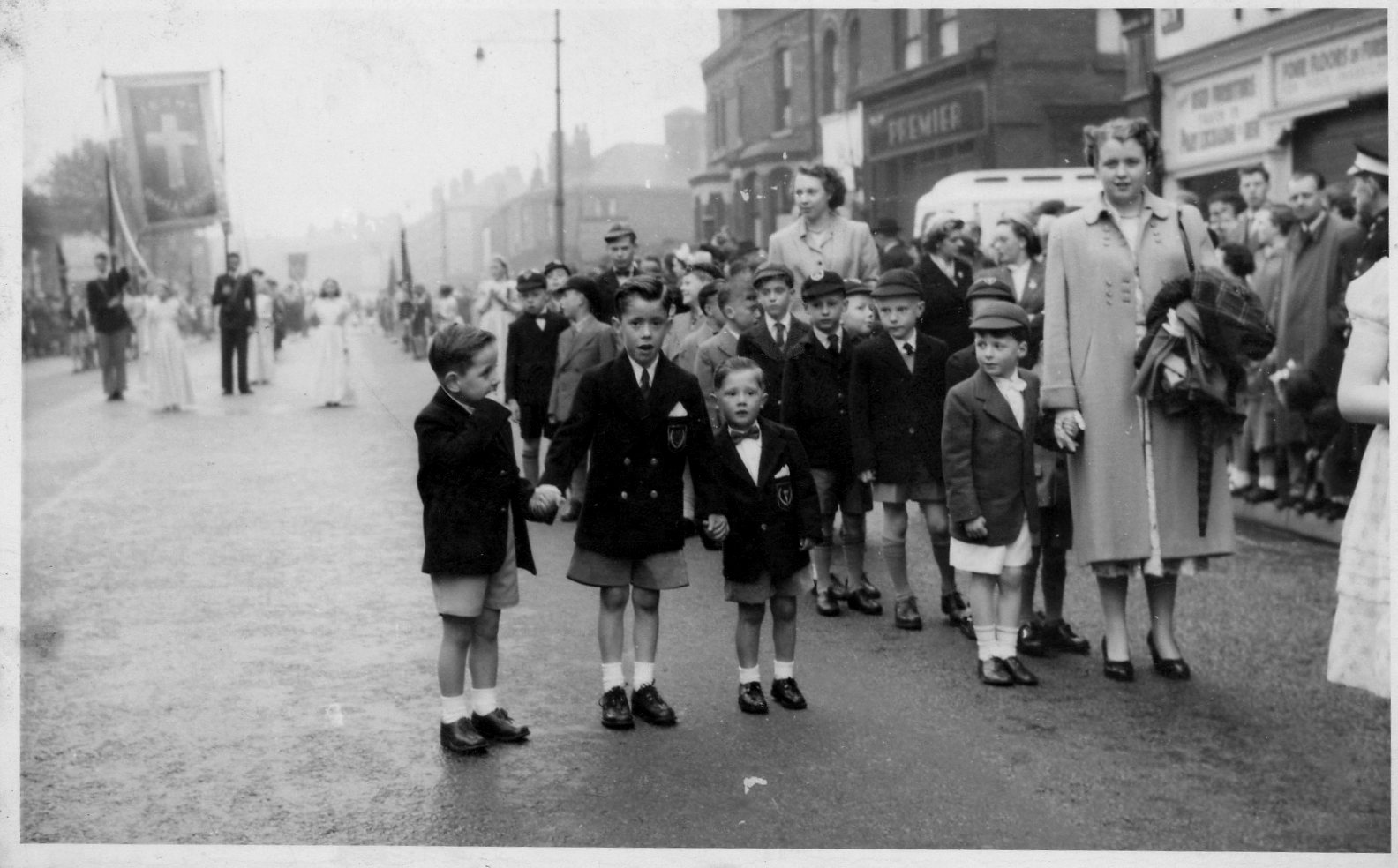 Same location as above in a different year. Brian on the left of the three boys holding hands. This photo would be the same year as the first photo. Brian's Mum, Mary Carter in the far background. Update:- Andrew Wells has identified himself as the boy in white shorts.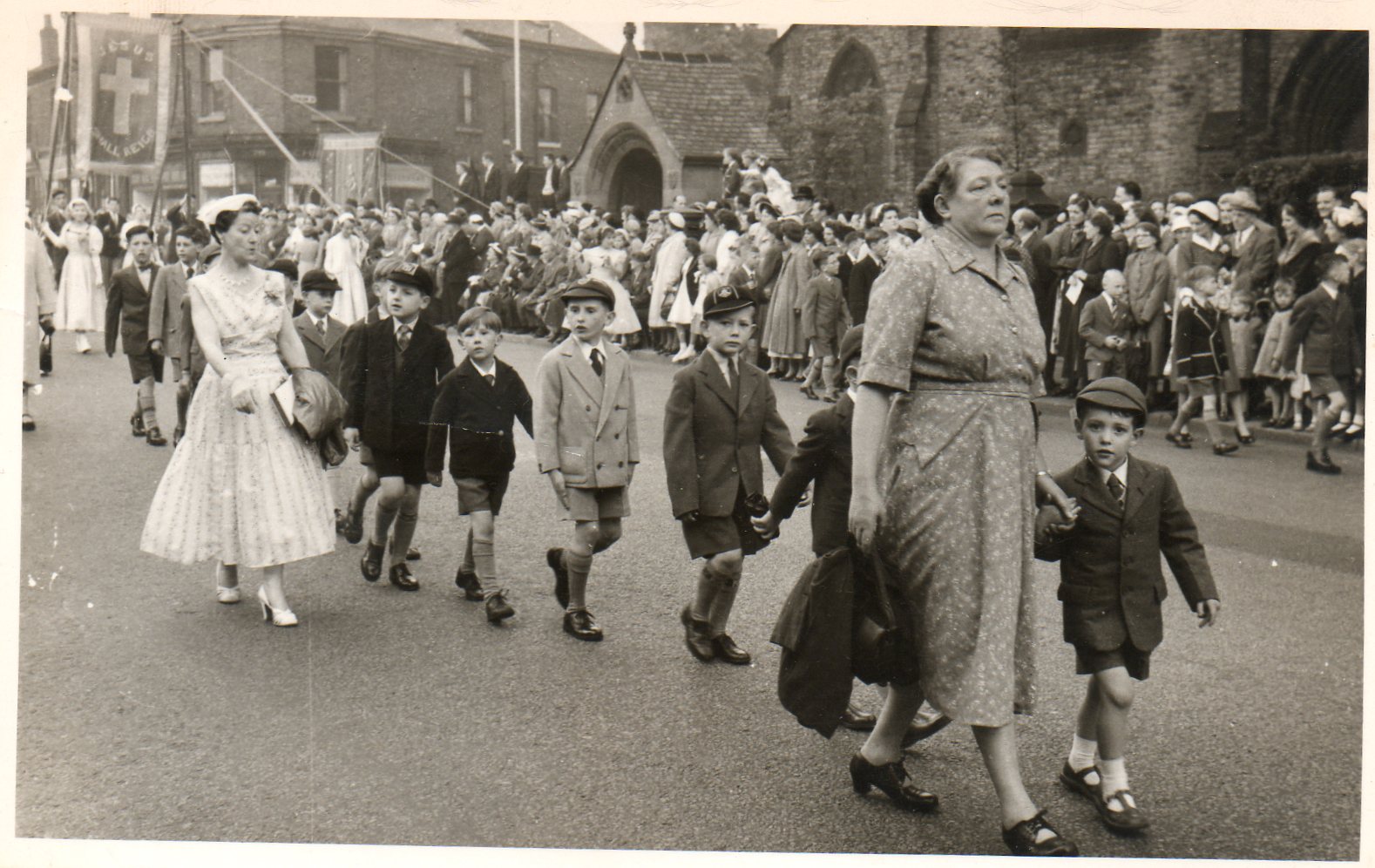 Passing St Peters Church. Brian is boy with cap next to the lady with the fancy hat and dress. Update:- The lady at the front has been identified as Mr's Brookshaw. The lady in "fancy dress" could be Alice Bickley!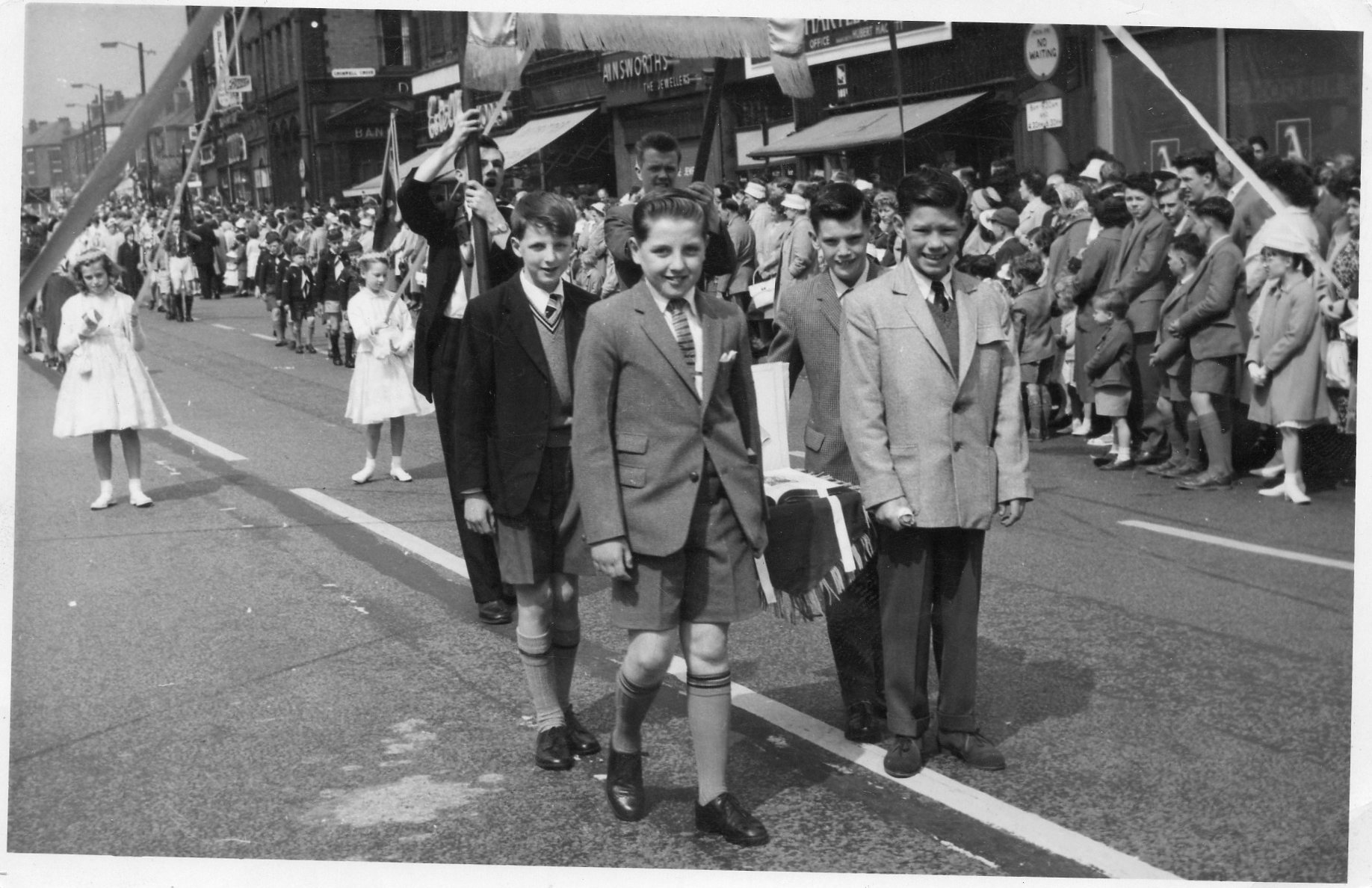 Photo taken between Cromwell Grove and Chapel Street heading south. Brian out front in Grey Suit and striped tie. The boy standing next to him in the fancy jacket is Peter Wallace. Update:- Andrew Wells has identified himself as the boy in the black blazer, Burnage Grammar uniform, behind Brian Carter.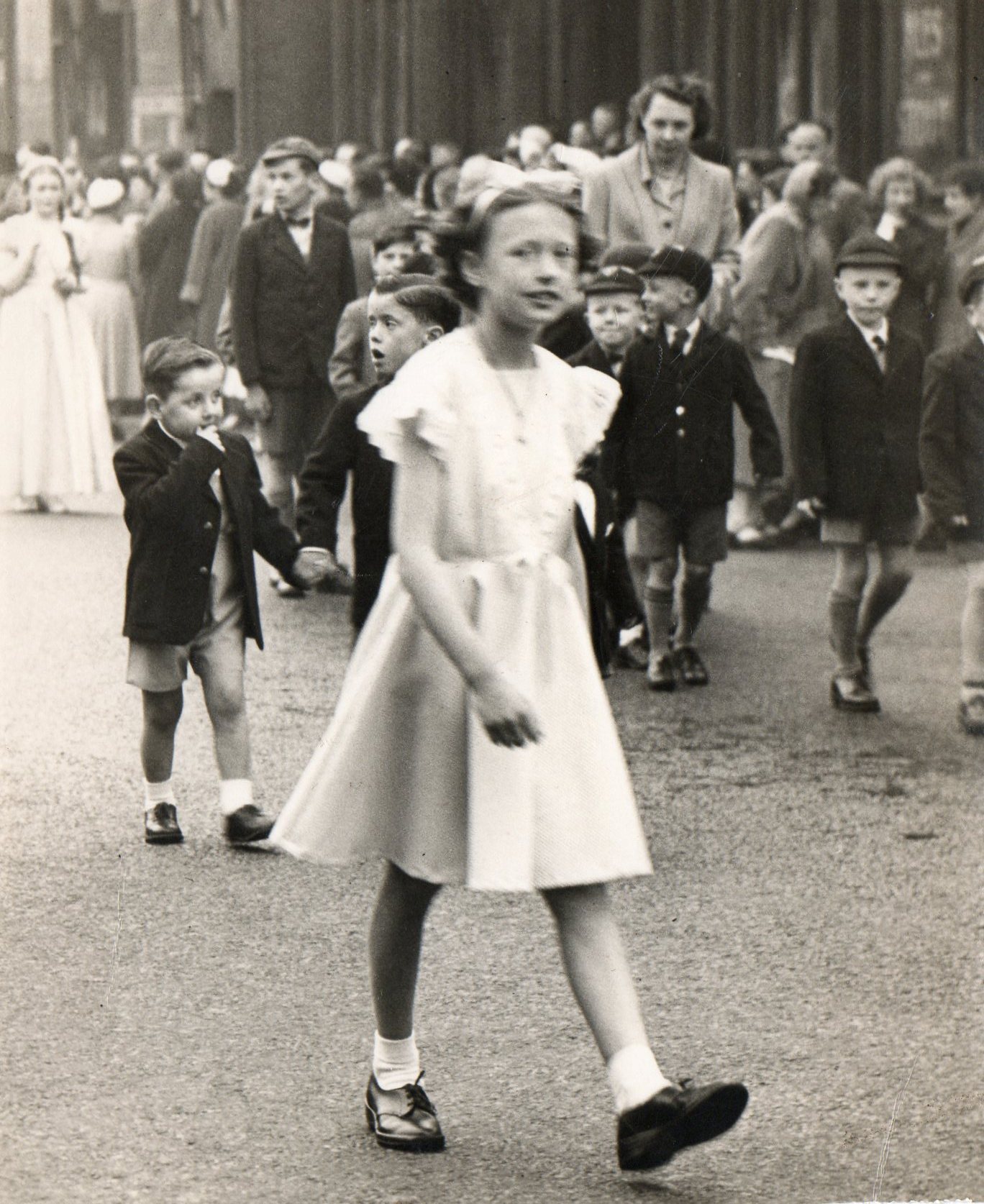 Brian again holding hands behind the girl in front. Does anyone recognize the girl or any other people in this set of photos? Update:- The girl may be Hazel Riley!
St Peters Whit Walks 1960s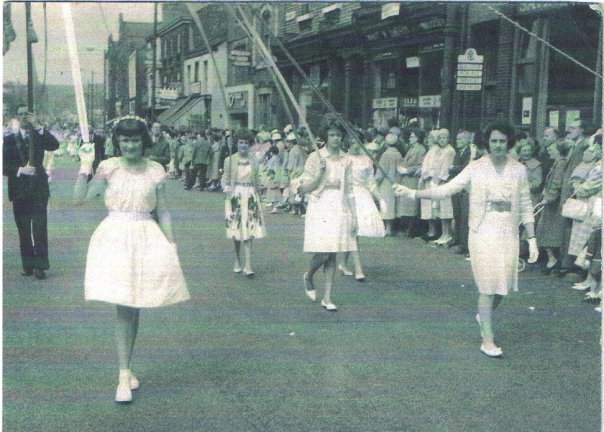 Photo taken mid-sixties outside the Trustee Savings Bank on Stockport Road. My old School chum Pamela Simm is the girl with the headdress out in front. ( via Pamela Tomlinson)
Whit Walks photos from the early 20th Century
A recent correspondent, Rachel Mekic, sent me the following group of Whit Walks photos taken in Levenshulme.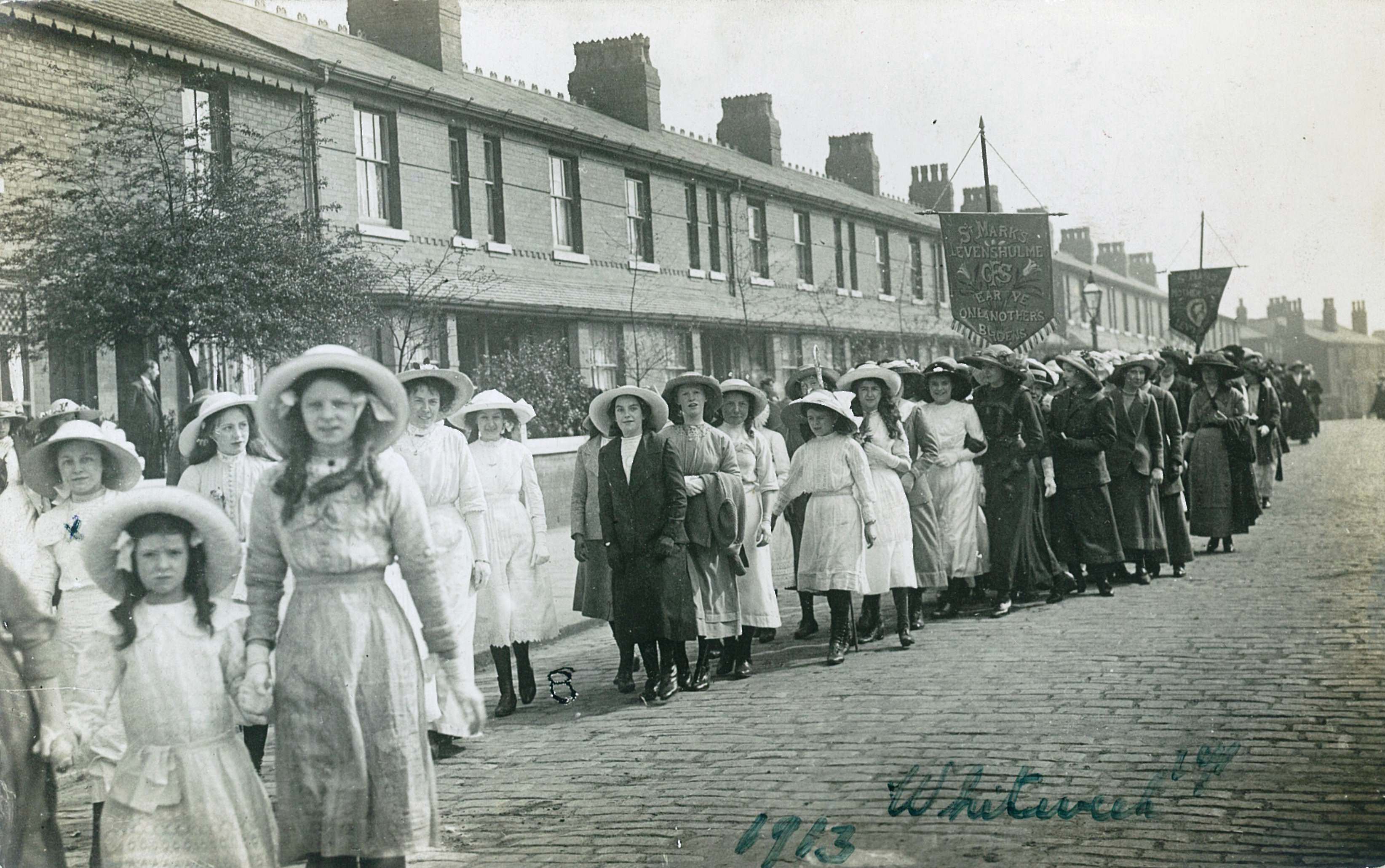 Dated 1913, not sure of this location. Broom Lane?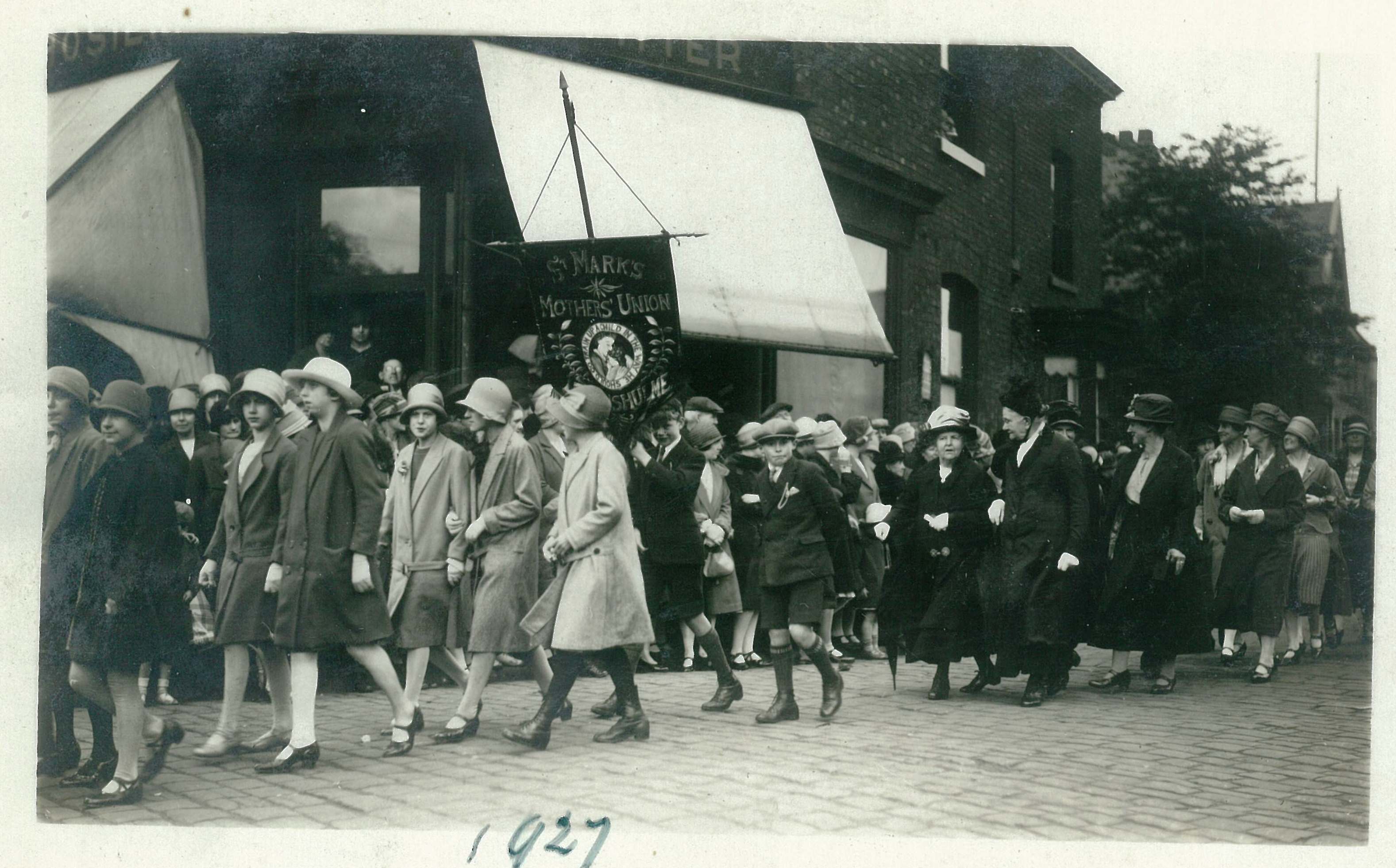 Dated 1927, corner of Barlow Road & Stockport Road. St.Marks Mothers Union.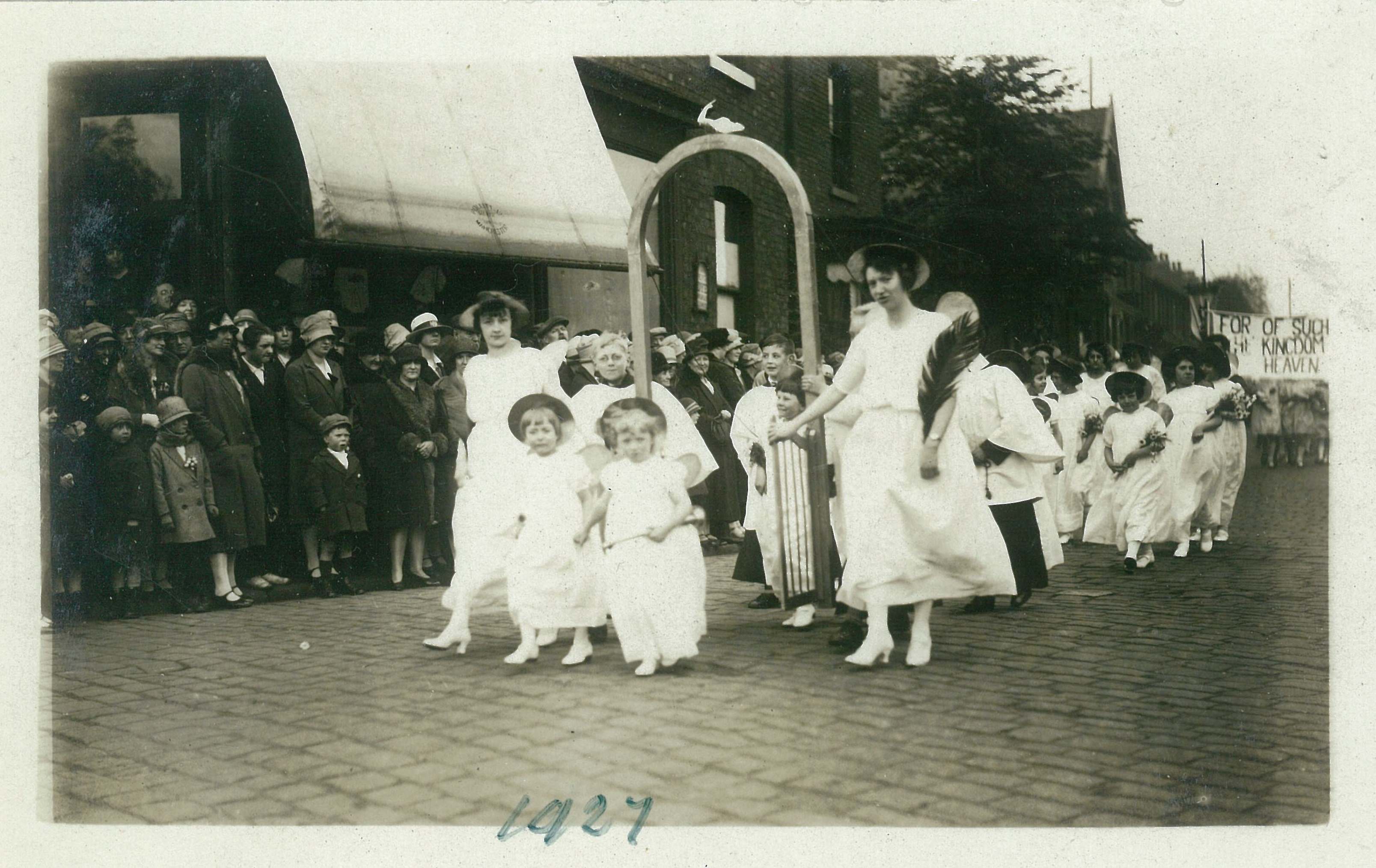 Same location as above, 1927.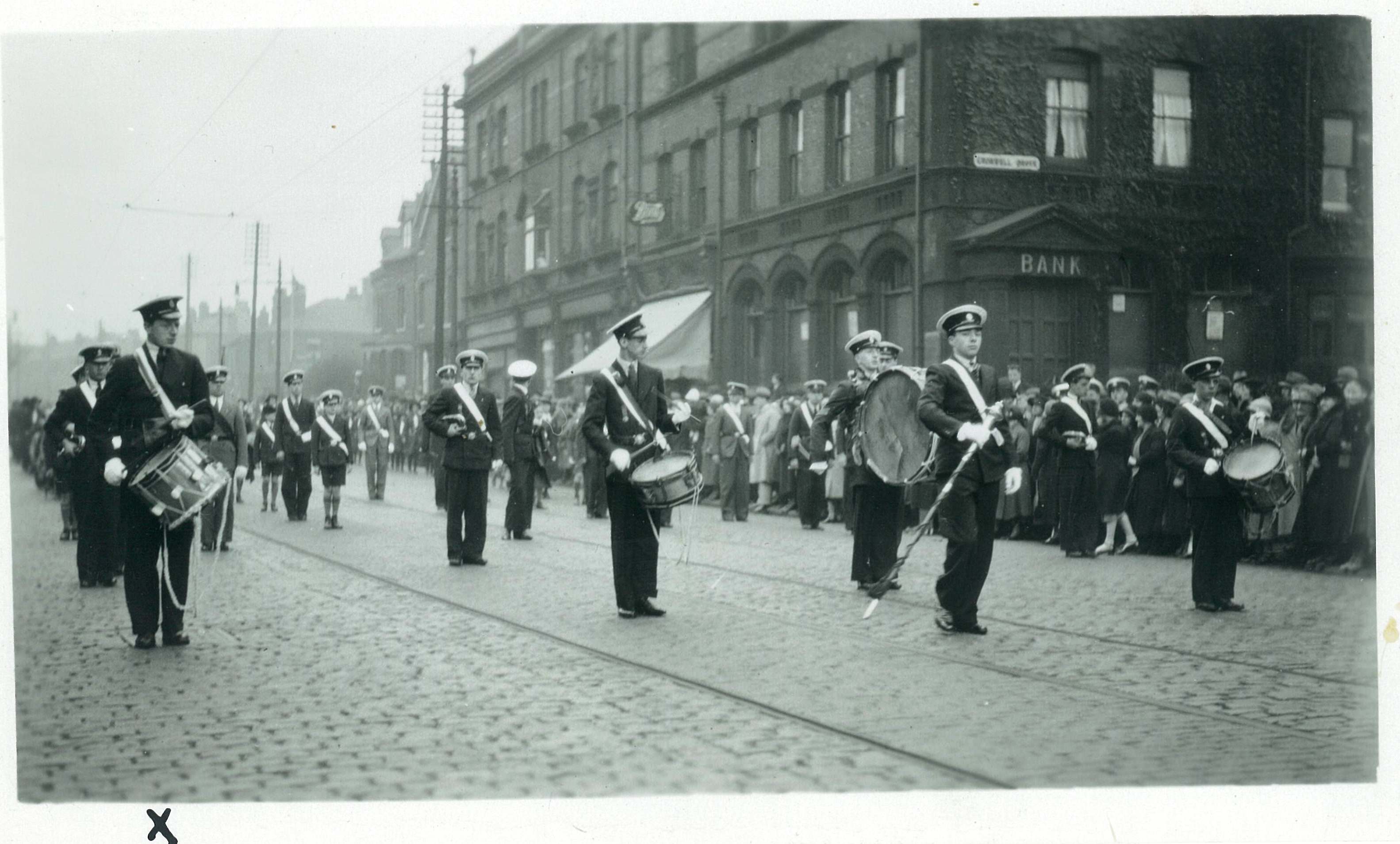 Dated 1930, corner of Cromwell Grove and Stockport Road.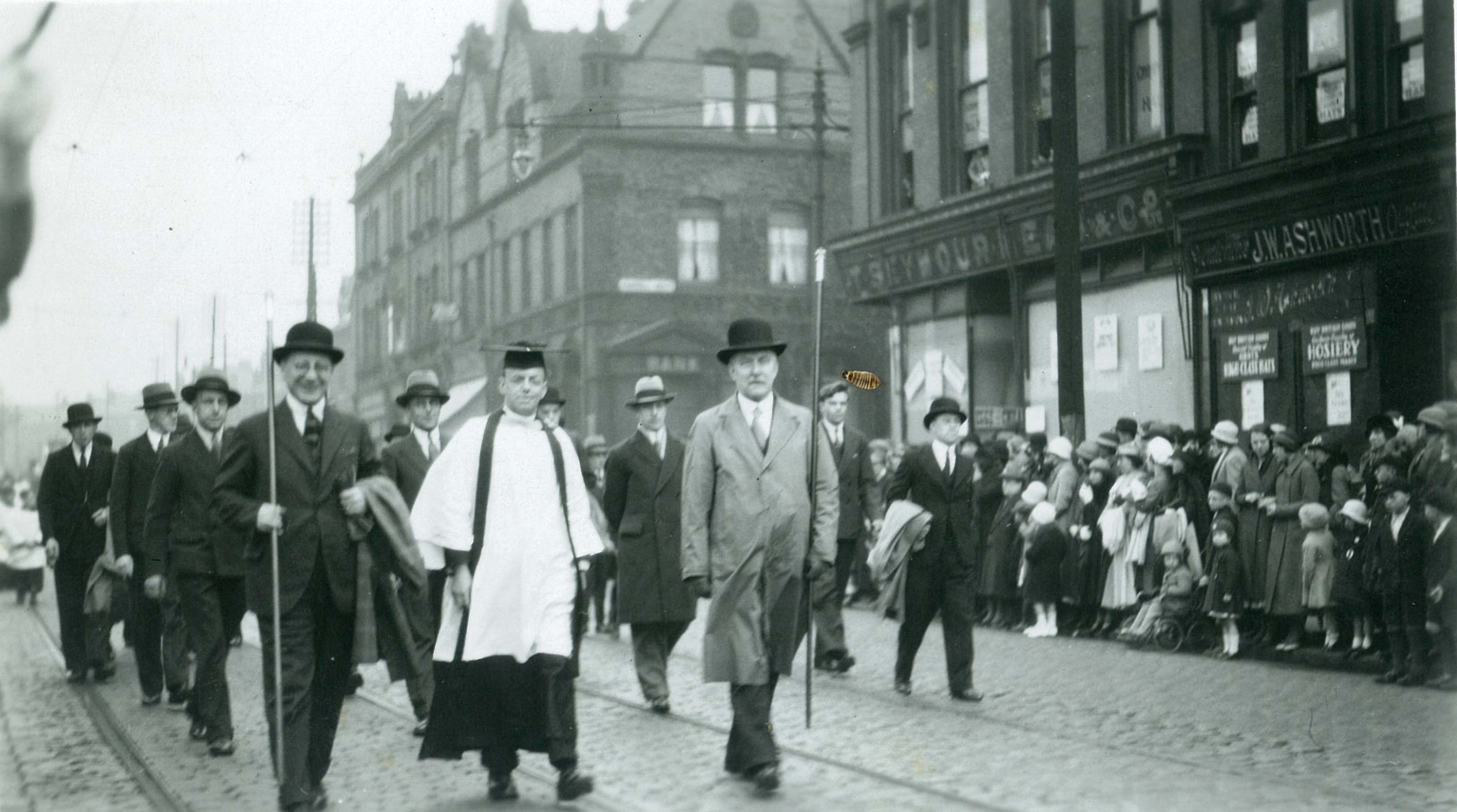 1930, a little further south than the previous photo. Note Seymour Meads grocers. This was later the location of Estelle Modes!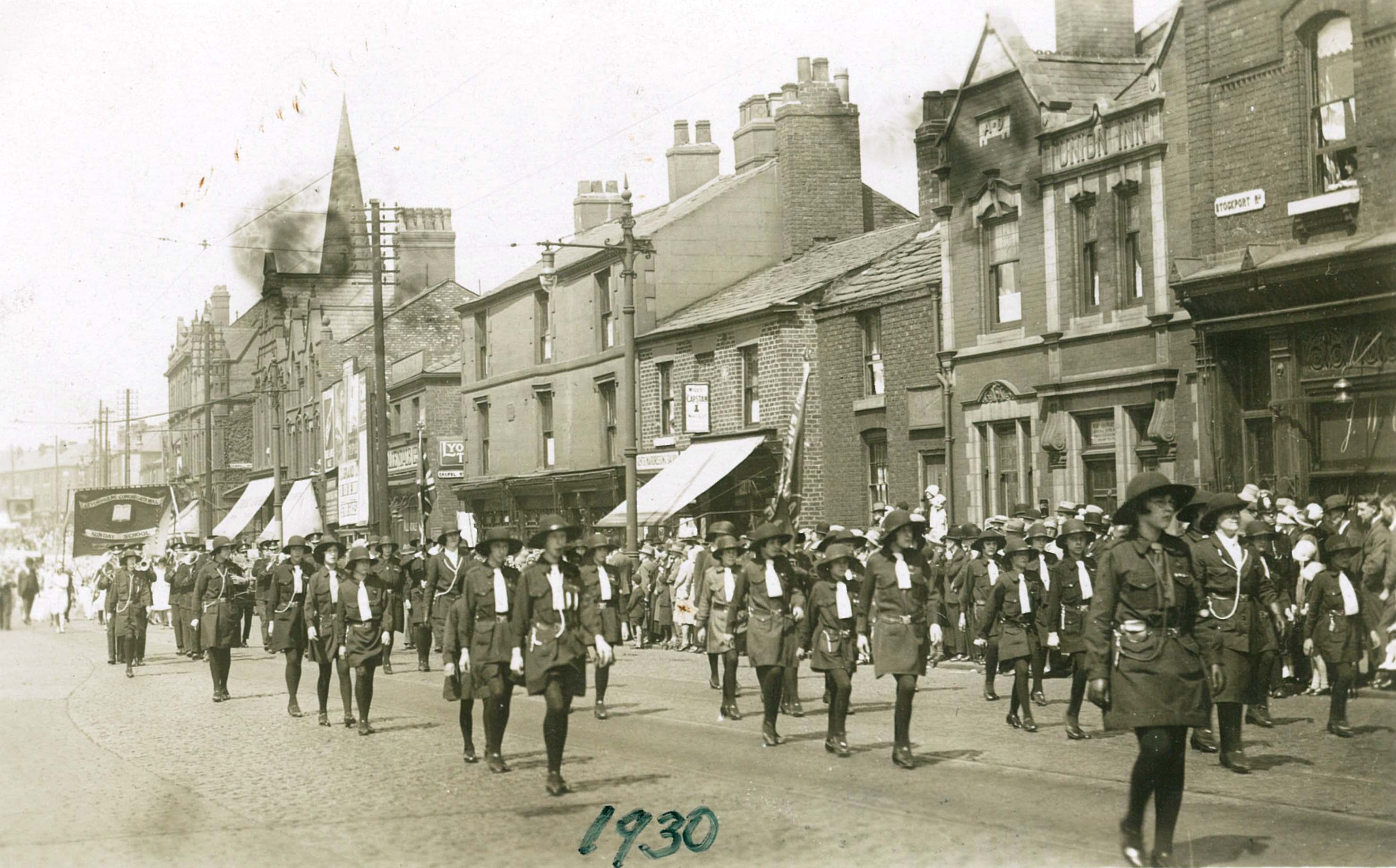 1930, Girl Guides passing the Union Inn on Stockport Road. Note the old house later to be re-built as the UCP tripe shop & restaurant. Is it just me, or are those Guide uniforms quite sexy!!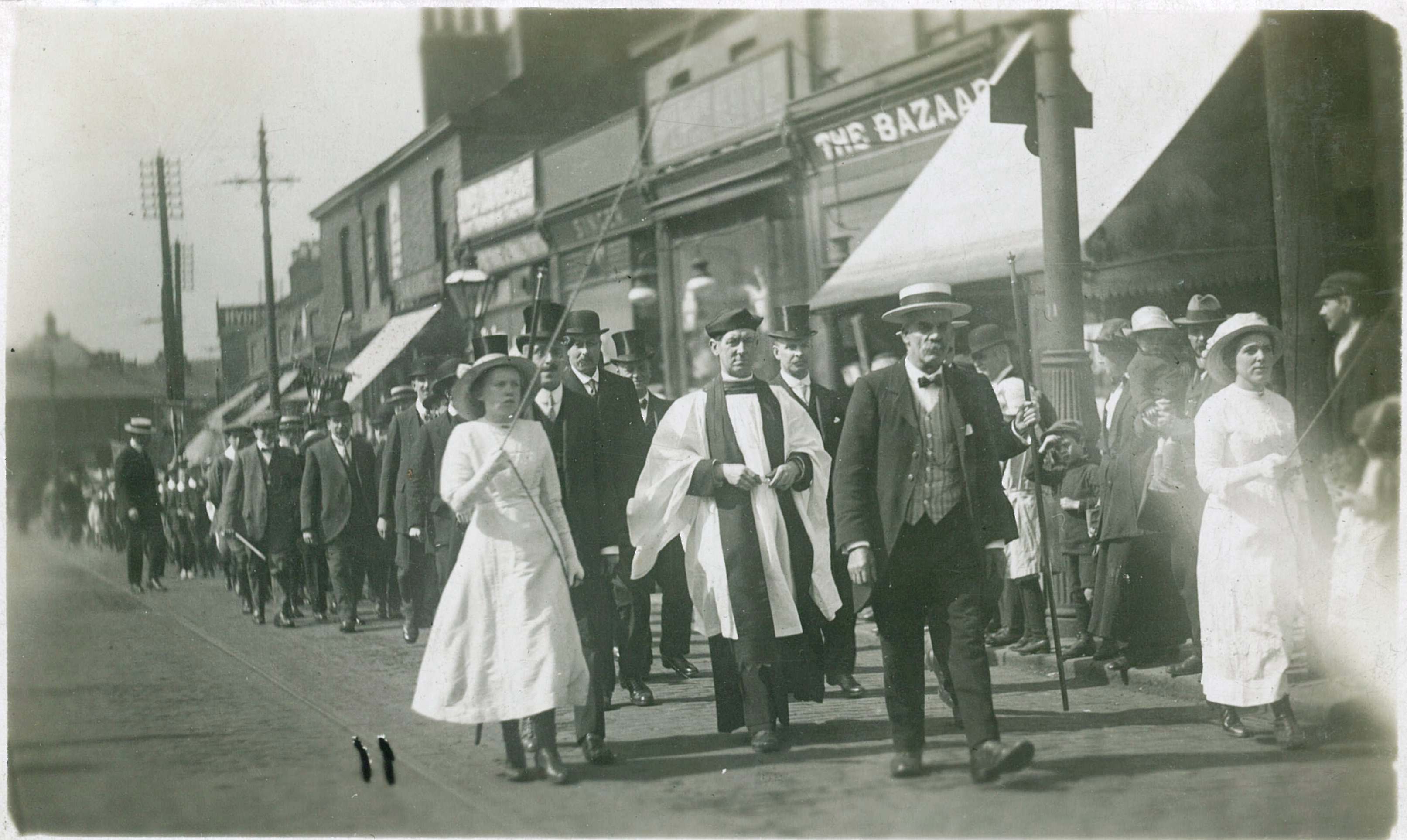 Stockport Road near to the Elbow Street corner. I am not sure of the date, 1920s? Note the shop called "The Bazaar". This shop was still going strong in the 1970s!!
Memories of Andrew Barber
Andrew Barber, son of Jack Barber, has sent me a number of photographs & memories. Andrew is a schoolteacher in Stockport. His father Jack Barber is a former Conservative councilor and well known businessman. Jack was the owner of Barbers Removers & Coal Merchants on Broom Lane.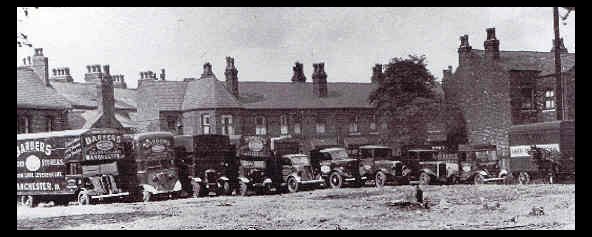 This photograph shows the varied removal van fleet of Barbers Removals. The vans are parked on the spare land at the Stockport Road end of Broom Lane. This land would eventually have pre-fabs built on it, and is now the location of Grasmere Old Folks residence. The photo was probably taken during or shortly after WW2. Note the white fenders on the vans & cowelled headlights. Also note the horse drawn van & horse!! Can anyone identify the manufacturers of these vehicles?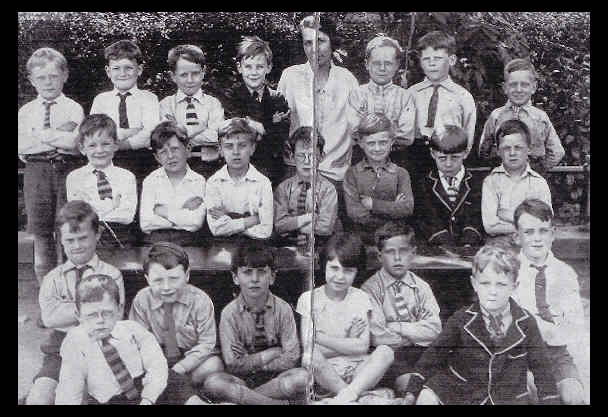 Andrew also sent me this photograph of his fathers class at Alma Park School in 1929. Jack Barber & his sister are seated either side of the Crease!
Barbers Removals Fire. June 1970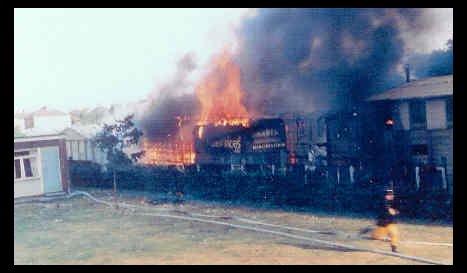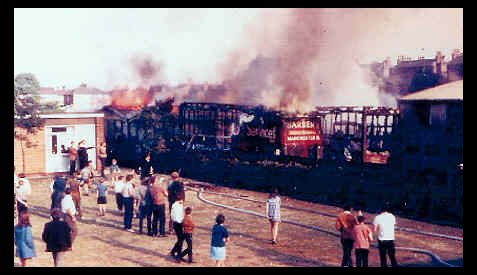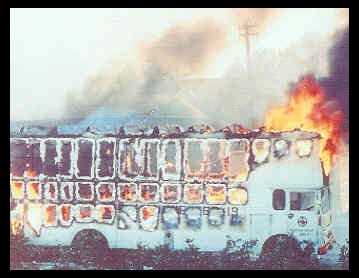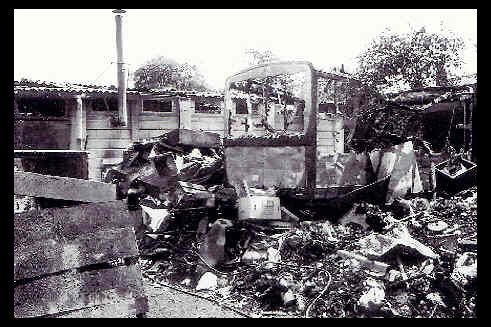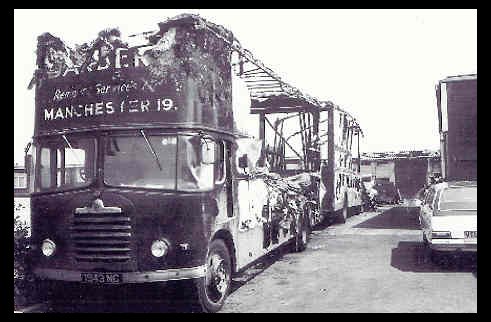 The above photos shows the disastrous fire that occurred at Barbers, Broom Lane yard on the 19th June 1970. In Andrew Barbers own words... "Friday 19th June 1970 Barbers had a big fire. It was Dads birthday & I was getting ready for scouts when the phone rang to say that a fire had started. I went with Dad and remember the event vividly. The colour pictures were taken from Grasmere OAPs home by a resident, and the black & whites were taken a couple of days later. As you can see some of the vans were painted grey by this time. The aluminium sheet bodies just melted off as the wooden struts burned. The worst damage was to the store at the back, which held furniture and household goods of many customers. The fire was thought to have been started by kids who had been seen playing at the top of the yard, but this was never proved.
Does anyone have personal memories of this fire?
Chapel Street 1934.
The photographs below, show class Std 3A at Chapel Street School in April 1934. Andrew Barbers Mum, Pat Beresford was in this class, and compiled a list of the children that she remembered in 1990. The school building shows the old "tin school" which was derelict by the 1950s, and was demolished by the end of the 50s. Its a sobering thought that these happy kids would have been in their late teens ten years later, and would maybe have been in the forces at the end of World War Two! Anyone recognize the faces? Perhaps your Mum or Dad, or your grandparents could be in this picture.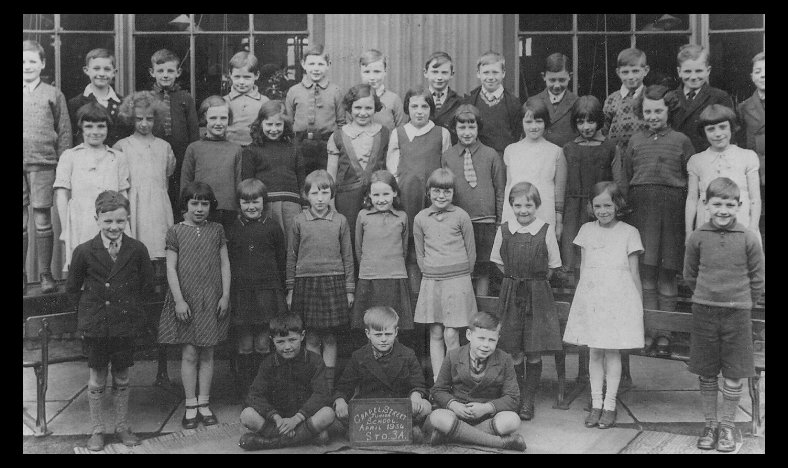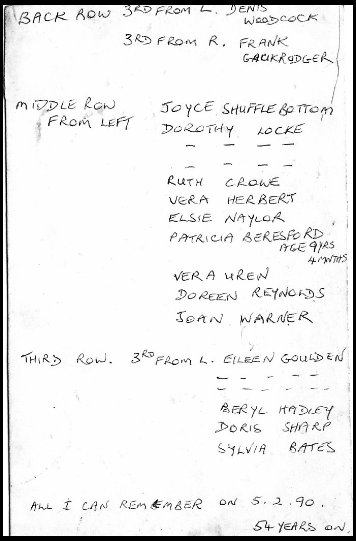 Memories of Carole Daniels. "Do you remember Sivori's ice cream parlour at the bottom end of Chapel Street? As a child, coming home from my Grandmothers home, I was treated to an ice cream. Up those stone steps, to be served by Hilda. Along Albert Road and onto Moseley Road, where my parents and I lived in the flat above The Manchester & Salford Co-op opposite Levenshulme British Legion, my ice cream having been well and truly devoured by then!"
" My Grandmother lived on Highfield Road in a council house from 1930 until her death in 1979. If my information & memory serves me well, the new occupiers of these homes were given the offer of renting a smallholding from the council at the same time. They were located at the top of the road, past the scout hut, can you remember them? My grandparents raised pigs & chickens on theirs. My Grandfather died in 1939, but my Grandmother kept it up. As a child my Mum used to say that she was lucky during the war as they had a supply of fresh eggs- a rarity in those days. My Uncle carried on the tradition in the 1950s and supplied " Walls Sausages" with pork until the council bought them out, and the land became known as Highfield Park. I remember standing on the footbridge there over the railway line, waiting with trepidation for the train to pass underneath and then I disappeared in a cloud of white smoke. I can smell it know! It was a bit of a dare to us youngsters!" Thanks for the memories Carole. Carole, an old friend of mine, is related to the Hinchcliffes who were well known in the Highfield Road area & at Chapel Street School in the 1950s & 60s.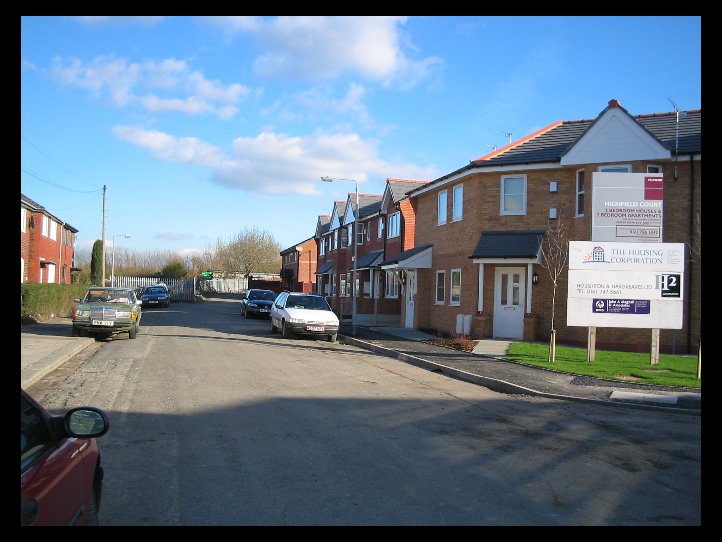 The top of Highfield Road, March 2004. The small holdings referred to in Carole Daniels memories, were in the background of this view. ( Photo Carole Daniels )
Fairey Band Memories & History. From Lee Rigg
Fairey FP (Music) Band Logo
"I was very interested to look at your web site regarding the Fairey Aviation Brass Band. I can tell you that the band is still at the very top of its field in music making, and is currently the Champion band of Great Britain for the second consecutive year, as we also won the title in October 2002 at the Royal Albert Hall, London.
The band has toured extensively around the world, and has regularly broadcast on both TV and Radio. The band also has many acclaimed commercial recordings." Lee Rigg has played with the band for ten years. See also the Fairey FP band link on my Links page.
Since the bands formation in1937 with Harry Mortimer as its musical director the band has had great financial backing from the Fairey Group. In 1986 the Heaton Chapel site was bought by Williams Holdings. The band name changed to the Williams Fairey Engineering Band, and in 1992 to the Williams Fairey Band. Currently the band is sponsored by The Foster Partner Company since 2003.The band is now known as the Fairey FP ( Music ) Band, and its logo is the old Fairey Aviation wings.
Chapel Street Labour Exchange/ Community Centre. ( A short history by Jez Hall)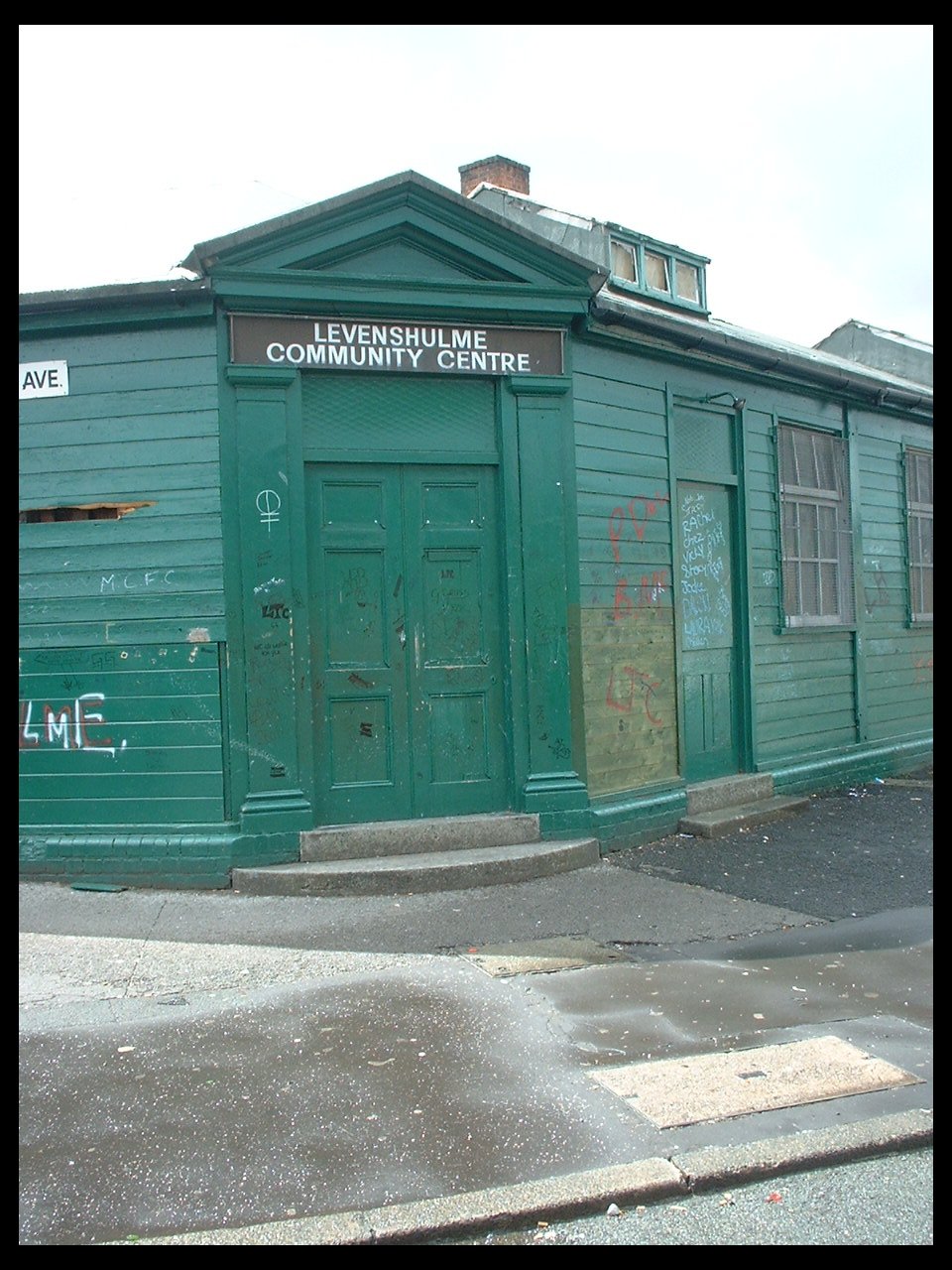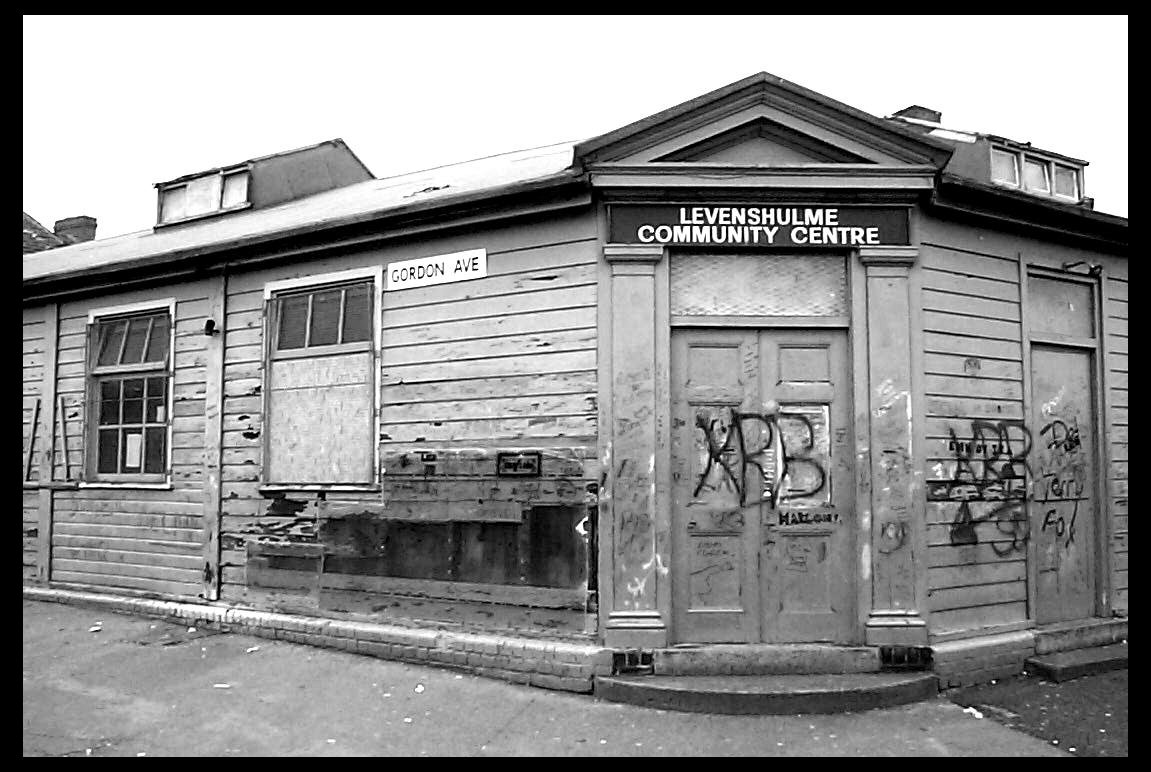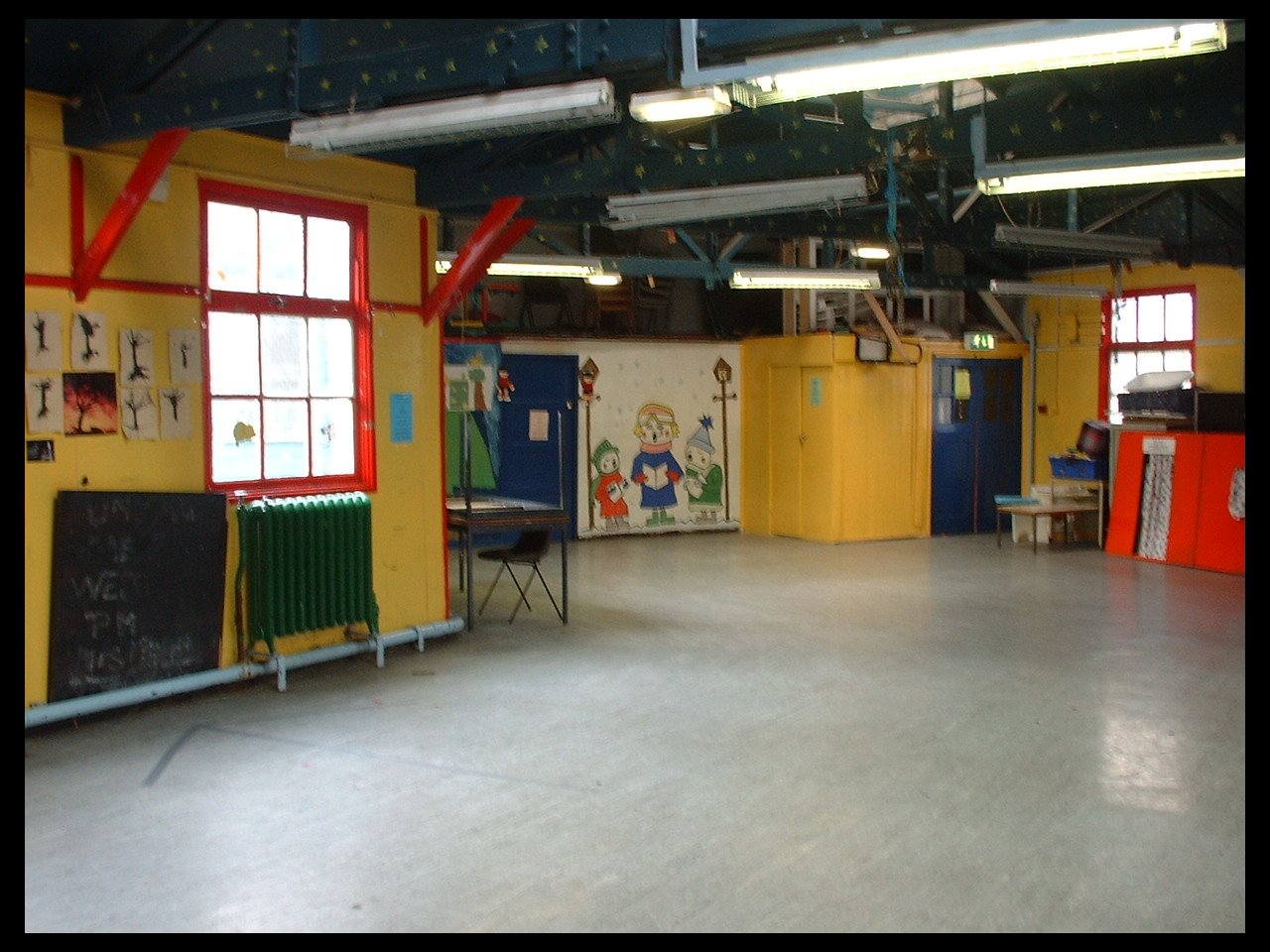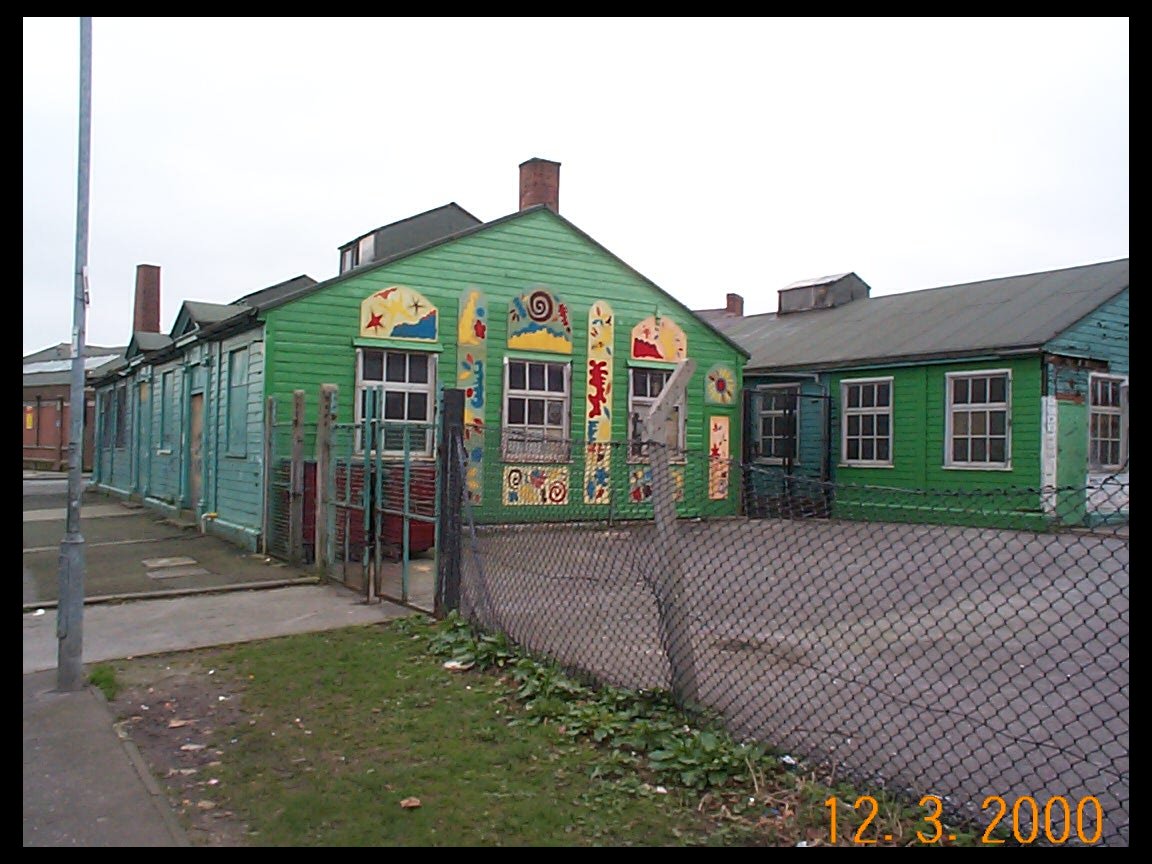 The above photographs & following history were supplied by Jez Hall, a current resident of Levenshulme in 2004
Memories of Levenshulme Community Centre ( former Labour Exchange)
"I have been asked to write down, as part of a local history project, what I know about the past of Levenshulme Community Centre. None of this early history is certain, but I've pieced some together whilst being involved. My connection with the centre has been over the past 10 years, ever since I first used the centre on Thursday mornings as a new parent bringing my child to the baby and toddler group.
As far as I know the centre was built just after the First World War ( eg around 1920-22). It was one of many buildings mass produced in " kit form" in the United States of America. Following the war the Levenshulme centre and others were shipped in pre-assembled panels to a number of locations in the North West and Manchester and were used as " de-mobilization centres" for returning troops. They were made, I understand, of very high quality western red cedar, which as meant that it has lasted for over 80 years on the current site on Chapel Street.
Following the war the building were provided by some form of " lend-lease" agreement. I heard this from someone involved on the Mill Street Venture Centre, Openshaw, ( which is of similar age and design, but has now been re-clad in tin and refurbished to become a successful community building still used by lots of groups). I my work I think that I've spotted a couple of others around Greater Manchester, such as in Rochdale, still being used as a community centre. I wonder how many were built and how many survive?
Later it continued on as a Labour Exchange, where people came to" sign on" and to collect their dole money. A number of people have told me that they remember "signing on" here, or seeing queues of out of work men. I always wondered if it had been built off the main road purposely, so that people wouldn't see the unemployed queuing for their handouts. Mill Street Centre is similarly located on a back street.
I have been told that at one time there were up to three entrances onto Chapel Street. Two for the men, in and out, and one for the women. Inside there were desks for you for you to sign on and collect your dole money. The current side entrance on Gordon Ave would have been only for the back offices that ran behind the main hall. Hidden among these back rooms is the original safe ( or Strong Room). It's the only brick part of the building, besides the boiler room chimney. The safe is big enough to stand in, with a full height 6" thick metal door. The keys are now lost and it is impossible to lock it. The safe was used to keep the dole money in before it was handed out to the unemployed.
Sometime in the 1970s the Department of Employment built new Labour Exchanges, liked the one on Matthews Lane ( now closed!). So I believe at this point the building was transferred to the control of Manchester City Council.
By the early 1980s it was a flourishing community and adult education centre, offering a whole range of evening classes. Somewhere I've seen some photos of it around that time with volunteers and community workers doing a mural on the outside of the building. It was of multi-coloured people walking along together, painted onto the side of the building. At the time I believe the community association as quite active too, but it was always run by the Adult Education department of the city council, as an adult education centre.
However, around 1990 ( about five years before I became involved0 the situation deteriorated a lot. The council no longer had the money to maintain the building or put on adult education classes. Since then t has been struggling. No money has been available to do more than emergency repairs, and, being a wooden building, it has suffered greatly from not being maintained. One by one the council withdrawn from the activities that it ran, leaving only the " independents" that could survive. Vandalism has been a problem, but really it is a lack of maintenance and money which has brought the centre to its knees. Without management support it began to depend on volunteer efforts. Unpaid volunteers cannot run a complex building like a community centre without money.
When I became involved in about 1995 there were lots of activities still going on. A weekly youth club, boxing club two nights a week, Morris dancing for children on Saturday mornings, karate classes, all serving young people. Even a church group used the building on Sundays for a while.
There was the successful After school club every week-day for primary school kids, and the offices for the Manchester One Parent Advice Centre, serving the whole city. Also every day the playgroup ran for 2-5 year olds. Its been running now for over 30 years, always led by Brenda( and more recently Louise as well) and has seen generations of young ones pass through its doors.
Also the daily OAP luncheon club, where you could get a good hot meal and meet your friends. It was also the base from which "Meals on Wheels" services were made and distributed across the whole area.
I helped establish the baby And toddler group around 1995, which often had 15 parents and 25 kids, all playing and drinking tea in the old " signing on" hall. We had Christmas parties and even the odd day out. But our group always ran purely on the efforts of the parents, and never received any funding from the council or anyone. It has survived over 9 years now, and new people still keep it going. I was also involved in getting a mural painted, ( which still exists in the playground, on the wall of the playgroup room.)
But most of the activities have now stopped one by one, The youth club closed about five years ago, ( the last" open to all" youth club run by the council in Levenshulme). The evening sports activities, like Boxing stopped about 3 years ago, when it became impossible to get anyone to hold keys in the evening.
In the last year the OAPs luncheon club has been closed by the council, and the After school club has moved to Chapel Street School.
So now it's just the Playgroup and the Baby and Toddlers groups that are left. They have recently been told that the Council will shut the building soon, though no date has yet been given.
It's sad to think of it just disappearing after 80 years serving the poorest and most needy in the community, and also that work to better themselves through education, or used the childcare offered in order to work. I once tried to calculate the 1000s of hours of childcare, the 1000s of hot meals served and the 1000s of friends that met at the centre. It would be sad if no one remembered it at all, or even noticed its passing!
Community buildings should be symbols of how a community can care for itself. It doesn't look good now, and that says a lot about what damage has been done to our community life. Who is to blame is unimportant. It's just a shortage of money, a lack of friends and supporters, and being invisible that's killing the centre."
This is an interesting, but, ultimately a sad story. What can be done to save this multi-faceted building with a rich and diverse history of uses? Thanks for your letter Jez!
Memories of Levenshulme and the "Brickie" by Ian Duthie
I was born in 1944 and raised in Levenshulme, the youngest son of Bill & Jean Duthie (nee Houchin). My brother is Eric (Keith) Duthie. My mother and grandparents were all Levenshulme residents.
I lived at 59 Milford Drive until the mid 1960s when I moved to Blackpool before making the big move to Australia in 1968 where I live to this day.
Growing up in Milford Drive was great fun as there were several families with young boys. There were the Kennedy's ( 4 boys), Blair's ( 2 boys), Stocks ( 2 boys), Lindsay's ( 1 boy and one older girl) and the Lunt's ( 1 boy and 1 girl).
This large gang of boys had the greatest possible playground: the "Brickie". This large pitarea was largely grassed over and provided a range of hills, ponds with bullrushes, and of course, the constantly rolling little trucks on a continuous chain carrying the clay along the rail line to the Brick works ( Jacksons). I suspect there would be a serious safety concern today!
Many happy hours were spent playing "Cowboys & Indians" collecting frog spawn, and, in the winter, tobogganing.
Our house backed on to the Brickie, and we had a gate for easy access.
A nieghbouring farmer-somewhere around Pink Bank Lane-used the Brickie to graze his cattle. We often had cows grazing off our rose bushes!
I can remember all the boys following the old frog collector and giving him cheek. He was collecting live frogs for the University and the like and so was very unpopular.
We were often chased by "Old Cocky" who was the watchman at the Brickworks. The stacks of bricks were a great attraction, but we were constantly chased off.
Guy Fawkes night was very special as the Brickie was the ideal location for a really big bonfire. We would spend weeks "plogging" ( collecting wood) and guarding our timber until after dark against marauding bands of "plogging" thieves from other bonfire groups.
On the big night you could see a range of fires around the Brickie. The treacle toffee and parkin would come out plus everyone had their own fireworks. The boys would throw "bangers" and "rip-raps" at each other. No wonder it was a busy night for the hospitals!
I remember the big fire at the Brickworks in the early 1960s. I was having a party ( parents on holiday) when it went up in flames. It was a very dramatic sight in the middle of the night. ( No it wasn't us!)
The "big hill" ( Tabletop?) on the Brickie had been a rubbish dump in the past, and was discovered to contain a wealth of old bottles and artifacts. My mother became a keen "bottle digger". I still have some of the more interesting bottles at my home in Melbourne.
No formal park could match the delights of the Brickie!
However, I spent a great deal of time at Cringle Fields being a very keen football player. But those pitches were really rough-and in the worst of winter-extremely muddy. No skill needed , just brute strength.
My brother and I went to Alma Park School before going on to high school.. Keith to Burnage Grammar and I to Openshaw Technical High School. Alma Park would have their School Sports Day at Errwood Park.
The Bandstand in Errwood Park was often the focus for functions such as the cubs and scouts. I believe it was also a congregation point after the Whit Sunday Parades.
On the rare occasion that I hear a Brass Band I am overcome with a wave of emotion.
The Levenshulme Baths were a popular venue. Alma Park had swimming lessons there once a week, and my parents would often take us Sunday mornings in the summer. You had to fight for space on warm days.
Saturday morning was the Matinee at the Regal Cinema, and later we would go to the Arcadia (the bug hut) and the Grand.
My brother and I went to St Andrews Church for Sunday School and the Boy Scouts and Cubs. Eric (Keith) also played for St Andrews Table Tennis Team for many years.
A colourful period was the "Teddy Boy" era. "Louis" and his gang were older than me but I recall that their base was Silvios Milk Bar. The boys wore the very distinctive " Teddy Boy" clothes and really stood out in a crowd. I believe they were still dressing the same way many years after the fashion died out, and that there was an item about them and their 1950s fashions on television.
As my grandfather ran the " Merry Entertainers" pantomime group, the whole family were involved. Granddad, Tom Houchin, wrote the scripts, painted the scenery and was the director. He was also the "Dame". My Aunt Glad and mother Jean would act and sing and Dad, Bill Duthie, would help with the scenery.
My brother and I were introduced to the stage as we grew older and had to take tap dancing lessons to improve our versatility. Not a standard pastime for Levenshulme boys in the early 1950s!
The Merry Entertainers traveled to church halls all around Manchester and Jack Barber of Barbers Removals would take the scenery and the cast ( about 25 people) in one of his removal vans to the various destinations. It was great fun locked in the back of the van in the dark. As it was illegal to carry people in the van, whenever Jack saw police there would be an order to " keep quiet" whilst we passed.
I have very fond memories of Levenshulme and although I visit England regularly it is many years since I have been back to my childhood home. Possibly it is better to just live with the memories rather than the reality of the present day Levenshulme.
Old Levenshulme by Jean Duthie (nee Houchin)
I was born in Levenshulme in 1915 so my memories go back a long way. My parents opened the newsagents opposite Clare Road in the early 1900s and sold it on retirement , about 1948.
My Dad, Tom Houchin, was very well known as he wrote and produced pantomimes and played the Dame. These were held in Alma Park Methodist Church and then the Town Hall. We also traveled all over Manchester giving shows for charity. Here is a photo of the cast of " Sleeping Beauty". Jack Barber moved both the cast and scenery in one of his furniture vans. Jacks sister, Bessie, married Tom Helm of Helms Dairies, situated on Stockport Road, North Levenshulme (Bought out by Express Dairies).
During the war she drove a horse drawn milk float. Sadly, she died very young leaving a small son, David Helm.
Levenshulme Town Hall had a beautiful spring ballroom floor. On a visit back to Levenshulme I was sad to see it covered in second hand junk.
Thank you Ian & Jean for your fine memories of a long gone Levenshulme. They Also sent some photos of The Merry Entertainers. See Below
The Merry Entertainers
These Photos from the 1950s feature various members of the Houchin/Duthie families ( photos via Ian & Jean Duthie)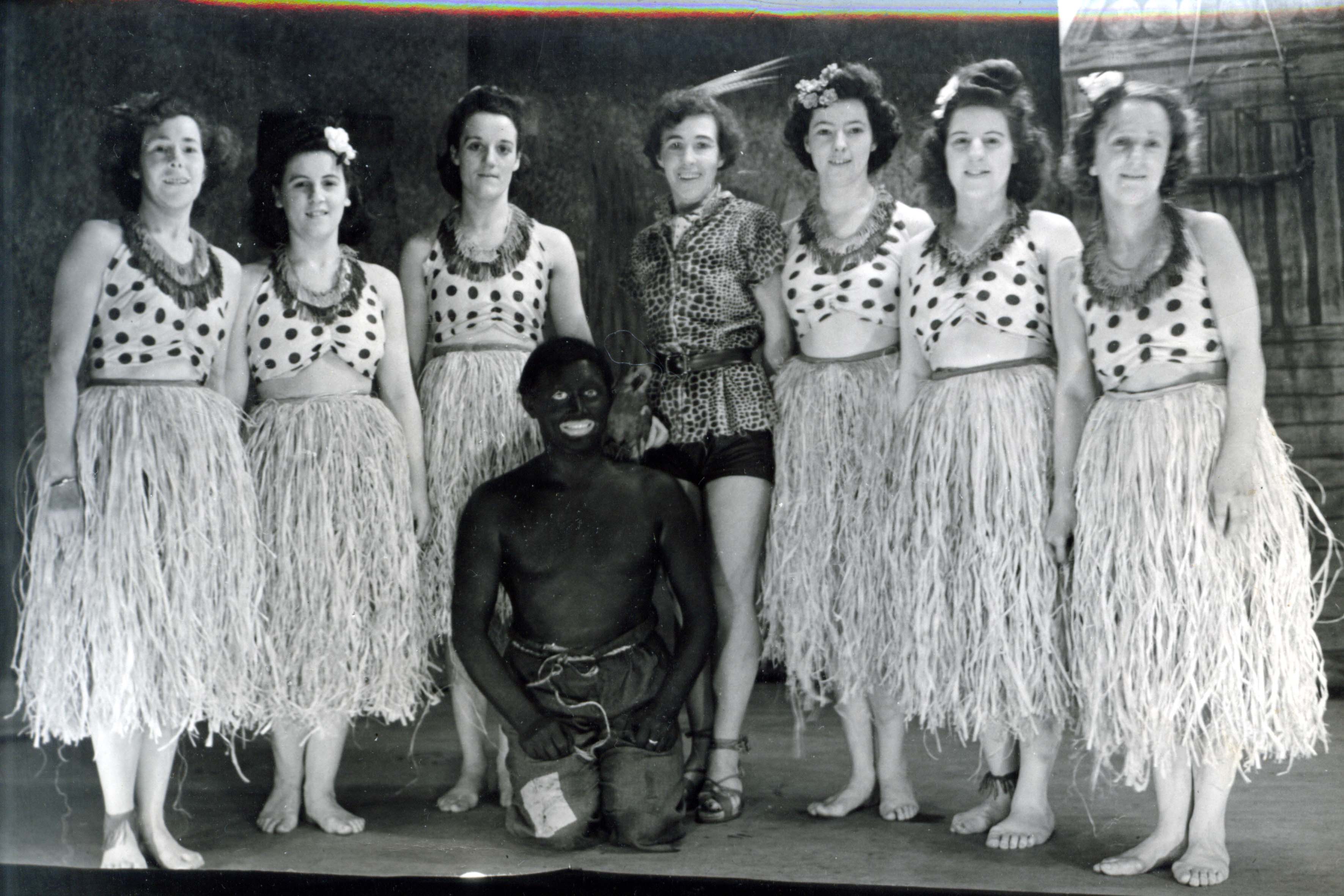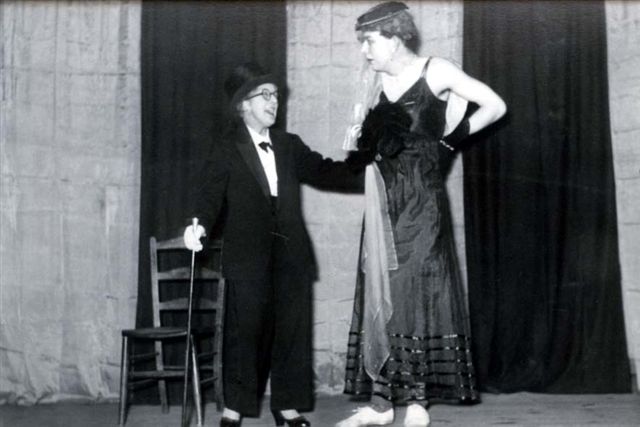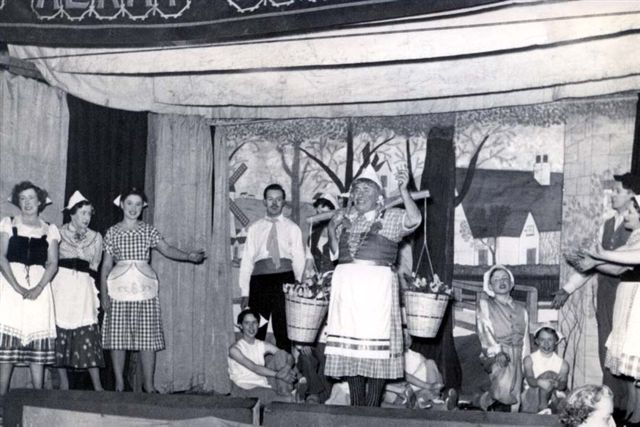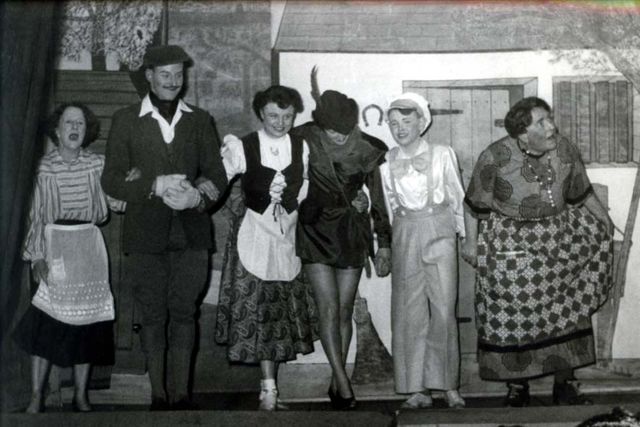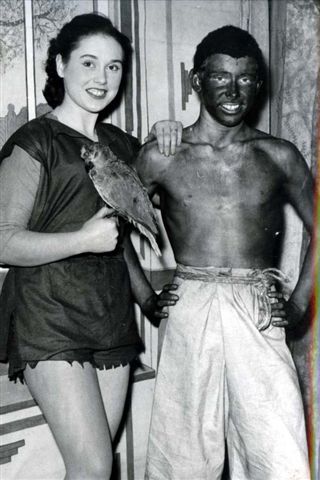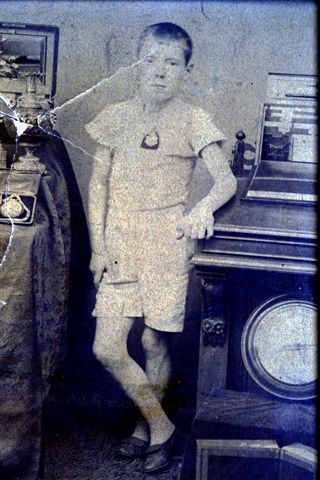 The last photo features Tom Houchin aged 12. He would later go on to own Houchins Newsagents on Stockport Road, and write, produce and star as the Dame in many local pantomimes.
Levenshulme by Doreen Booth
I lived at 31 Station Road ( now Crayfield Road) from 1935 till I got married in 1951. My late mother lived there till 1975, when she moved near to me in Marple. My brother was born there in 1936. I did live around the corner at 69 Broom Lane with my late husband and my two daughters, and they went to St Mary's School on Clare Road which my brother and I attended during the war.
There was a German plane shot down on the Brickie (Jackson brickworks) on Broom Lane. I remember seeing Home Guard taking the young pilot away, all very exciting!!! ( Does anyone remember this? Could it have been a British aircraft?)
My husband did have the newsagents in the 1960/70 at 909 Stockport Road and he took over Brady's grocery shop next door when Mr Brady retired. We let the premises from the Catholic Church who did own all the property up to the Grand Cinema which eventually became the Church before they built the present one in Elbow Street. My name before I was Married was Doreen Fisher, my brother Tony is quite a well known session trumpet player. My husbands name was John Booth, he died in 1992.
..